There are power users among us who run multiple AdWords accounts at a time. If you're one of these guys—a Search Engine Marketing agency or a large company perhaps—you should sign up for a manager account.
In a nutshell, an AdWords manager account is an umbrella account. You can monitor and manage up to 20 accounts within a single dashboard.
Managers use their manager accounts in the exact same way as a regular individual account. Managers can create new campaigns; add columns and set filters to campaign reports; tweak daily budgets and edit ads.
Manager accounts are linked to other AdWords accounts in cool and useful ways.
Here is an example of different accounts that are typically linked together; this is where manager accounts are used. As you can see, there's a Search Engine Marketing (SEM) Agency. The boss manages one of the agency's client's account (company G) and oversees his partner's manager account. His partner manages three clients (companies X, Y and Z). The CEO of company Z is a hands-on guy, so he checks in and works on company Z's AdWords account as well. On the side, this CEO manages another AdWords account (company Z.2) for a different product in the same company. It may look confusing, but that's how real life plays out!
Technical details
Here are some details that you can skip if you're a regular user, but are handy to know if you're structuring links between accounts.
A manager account can manage other manager accounts, but a manager account can only be managed by one other manager account. An individual AdWords account can be linked to no more than 5 manager accounts. Your managed account structure can be no greater than 6 levels deep.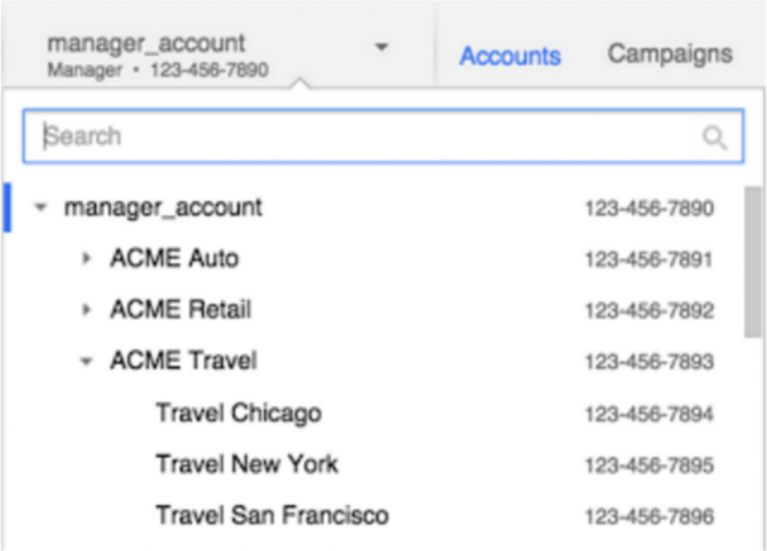 If you're a small company granting access to a third-party account manager, you shouldn't have any qualms about sharing access! An account manager cannot:
Invite others to access your AdWords account
Change the access levels of other users
Delete the account.
When your existing AdWords account is linked up to a manager account, nothing changes on your dashboard as well.
Your sign-in details, as well as invoicing and payment methods are not affected.
Your permissions remain the same, which means that you can perform the exact same tasks as before.
How to create a manager account
You can't upgrade an existing account to a manager account. A manager account is a brand new account.
Signing up for one is a simple DIY process as well.
Visit https://www.google.com/adwords/myclientcenter/ and click "Sign up now" in the top corner.
Enter the email address you want to use for this account. The same rule applies: one email address can only be associated to one AdWords account, so you may have to create a new email address for your manager account.
Enter a name for your manager account. Remember to pick something easily identifiable—this name will show up in the managed accounts (such as your clients).
Choose how you plan to use the account. Some managers manage their own multiple AdWords accounts, while others manage other people's accounts.
Select your country, time zone and currency. All of these settings are permanent and cannot be changed later.
Click "Save and Continue".
How to link accounts?
It is the manager's responsibility to link accounts up.
Obtain the AdWords Customer ID number (located at the top-right hand corner of the AdWords account.)
Sign in to your manager account.
Click on the "Accounts tab" and select "Performance".
Click "+ Account" and choose "Link existing accounts".
Enter the Customer ID number in the "Client Accounts" field. Click "Continue" and "Submit".
The AdWords account will receive an invitation via email to confirm. The link between accounts will be active after the invitation is accepted.
How to get the most out of your manager account?
Now, I trust that all manager account users are AdWords experts. How else would you be juggling more than one AdWords account? Here are 5 tips I've picked up along the way, to help you exploit the features of a manager account.
You should make use of the large amount of data at your fingertips and compare ad performance across accounts. It is easy to set up filters and add columns to show the data that you're most interested in.
Set up consolidated billing for all your managed accounts. This way, you'll get a line of credit from Google. You'll also receive only one invoice each month and pay for all accounts in a single transaction.
Use alerts to monitor all of your accounts, so you won't miss any special events. For example, we find it useful to set up alerts for underperforming keywords and campaigns that are ending soon.
Following the same thread of thought, you should also create automated rules for certain events. For example, you can automatically pause low-performing ads or schedule ads for the festive season.
Share your remarketing lists across all of your managed accounts. The customers on your remarketing lists are the most relevant customers and you should target specific ads to them as well as you can possibly can.