Creating your first ad is a huge milestone, but checking if your ad is running is essential! There are three ways to check if your ad is actually appearing to customers.
Step 1: Make sure your ad is enabled.
This step is non-negotiable. In fact, it is the first thing you must do after submitting your ad. Give Google anywhere between 15 minutes to 48 hours to process your ad, then check that it is active.
To do this, you must sign into your AdWords account and head over to the Ads tab. Look for a green circle next to your ad, which means that the ad is "Enabled". Conversely, an ad can be "Paused" and this is marked by a grey pause button.
While you're also on this page, check that your ad is approved in the column titled "Status". There are few statuses that an ad can have:
Approved: The ad complies with all policies and can be shown to all audiences.
Eligible: The ad is still under review, but can be shown on Google search pages.
Under review: The ad is still being reviewed and cannot yet be shown.
Disapproved: The ad cannot be shown. You may need to contact Google AdWords to find out more about policy violations.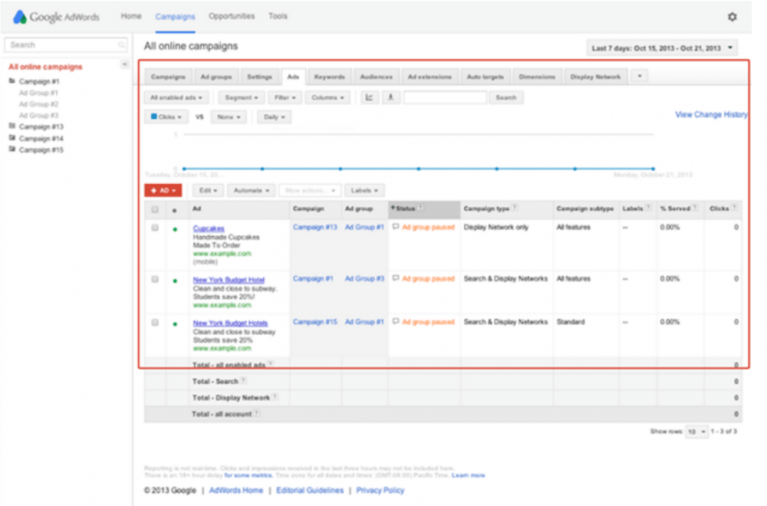 Step 2: Get friendly with Google's Ad Preview and Diagnosis Tool
This tool is pretty self-explanatory to use—all of you have to do is type in your keyword and let Google do its thing.
Another cool feature is the ability to enter geography and devices. This way, you can test all the settings that you had used when creating your ad.
It's better to use the Ad Preview tool than to do a search on regular Google because:
You don't rack up extra ad impressions every time you look for your ad. This is so that you won't affect your ad's statistics. More importantly, if you accumulate ad impressions without clicks, this will lower your clickthrough rate and prevent your ad from appearing as often as it should.
In summary, do not search for your own ad using regular Google!
If you keep searching for your own business without clicking on your ad, you'll stop seeing it. Google's system recognises your computer and thinks that you're not interested in the ad!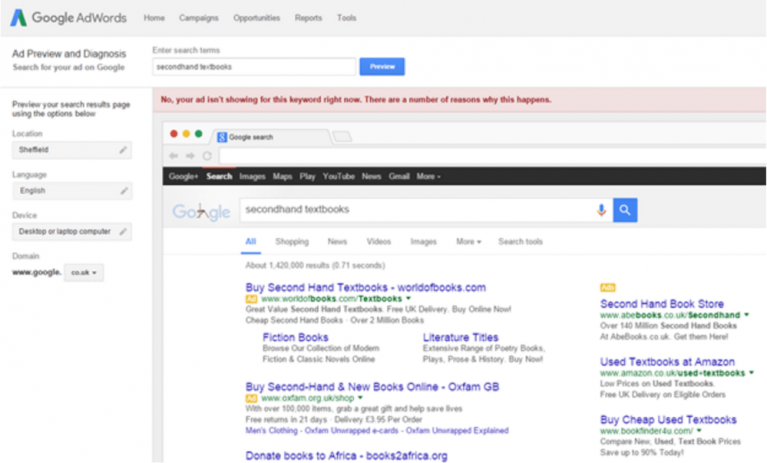 Silly mistakes to avoid:
Disable any ad blocker software on your browser! These little extensions will sanitise your search results of all ads.
Don't go searching for your ad in the whole of England, if you've paid for your ad to specifically target folks in Manchester. Similarly, don't search using English-speaking Google, if you've chosen to advertise in Spanish!
Remember to check page 2 and onwards in the search results! If your ad is lousy (your ad rank and quality score isn't high enough), Google may kick your ad to the later pages. If so, please treat your flailing ad immediately. Call the ambulances and skip to Chapter X!
Don't panic if your ad is active but does not show up on the search results. You may have reached your daily budget. At this point, Google slows down or stops the ad delivery. So, let's see if your ad has racked up any clicks in the previous 12 hours.
If you're connected to a Virtual Private Network, Google may get confused about where in the world you are.
Step 3: Check your account stats to see how ads are doing.
Sign into your AdWords account and click on the Campaigns tab. You'll see detailed information on the how much traffic your ad is receiving. It always makes me feel like one of those guys at the NASA control center.
Of course, we'll make sense of this data and extract useful information later. For now, you just have to check that these numbers are not zero:
Clicks—if there are clicks, your ad is live and people have clicked through!
Impressions—this shows how many times your ad is displayed.
Then, head on over to the Keywords tab and click on the speech bubble icons. This would give you more information about whether your keywords are potent.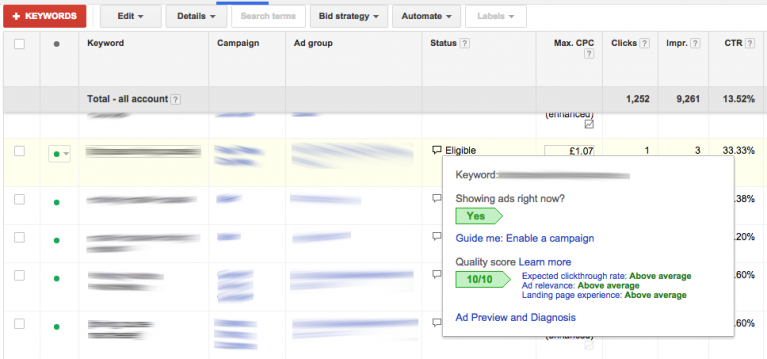 AdWords does not report stats in real time. This means that you will not see any clicks or impressions in the last three hours.