Welcome to our series on the basics of SEO! We know that SEO is a field in which there are a lot of words and phrases thrown around that won't mean much to the average Joe. The thing is, though, plenty of people can benefit from some basic SEO knowledge. So, whether you're just getting started in the SEO world, or want to gain a stronger understanding of optimisation in order to take your business to the next level, Supersede Media is here to help!
In each instalment we'll provide a simple outline and need-to-know facts about a particular SEO topic. It's only right that we kick things off with a biggie: the featured snippet. Here we go!
What is a featured snippet?
A featured snippet—also referred to as the answer box or position zero—is a prime piece of SERP (search engine results page) real estate. In fact, for many digital marketers, it is the holy grail!
Chances are you've seen one many times, but it's important to note that they don't show up in response to all searches. The featured snippet is that handy little box that sometimes appears above the regular organic listings when you perform a search. It's designed to provide the most succinct version of what you're looking for, without you having to leave the SERP. If you do click on the link attached to the snippet, it takes you to the exact point on the page that the snippet is pulled from.
That's our explanation complete. Here's what Google itself says:
"Google's search results sometimes show listings where the snippet describing a page comes before a link to a page, not after as with our standard format (…) We display featured snippets when our systems determine this format will help people more easily discover what they're seeking. They're especially helpful for those on mobile or searching by voice."
Different types of featured snippet
Given that the potential subjects of internet searches are almost endless, featured snippets come in a variety of formats. It turns out, taking a journey into the fascinating world of mangoes allows us to explore the 4 main types…
Definition
A lot of internet searches are in the form of a basic question. For these, Google likes to provide a basic answer in the form of a short and sweet definition via a featured snippet. The BBC have earned the featured snippet here, thanks to a snappy yet detailed explanation of where mangoes come from. Other major sites that often earn featured snippets in the form of definitions include Wikipedia and Quora.
Table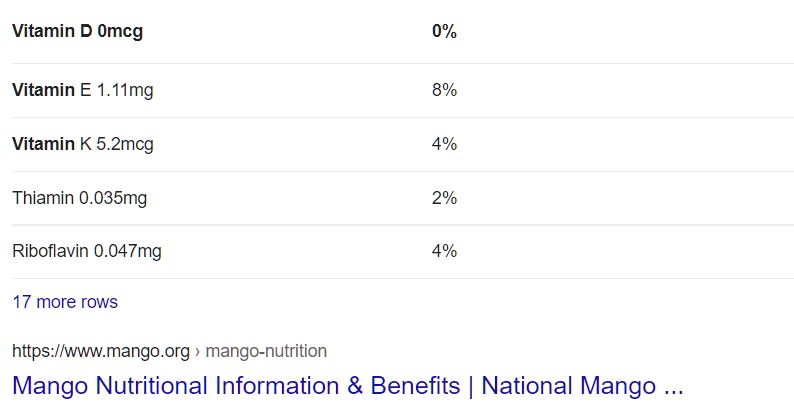 The guys over at mango.org may be slightly miffed that they only managed to land 1 of the snippets in our mango-themed session. Thankfully, they did succeed in providing some nice stats that earned a featured snippet in the form of a table. As you can probably guess, this format is favoured by Google for search terms that require the presentation of data, like this one on the nutritional benefits of the fruit.
Numbered list
We often turn to Google for advice that comes in the form of how-to guides with step-by-step directions. Featured snippets can appear on the SERPs here too, as they sometimes provide numbered lists. For this one to be offered up we just had to ask a question on a specific process (freezing mangoes).
It's handy to know that clicking on 'more items' will take you to the actual web page (and the same goes for clicking on '17 more rows' in the table snippet). This has implications for potential click-through rates that we'll get into later.
Bullet point list
And, finally, you can get lists that are not in any particular order. This is why it's good to include bullet point lists in your content! Not only is it a nice way to break up large chunks of text, but with some keywords it offers another way to target the featured snippet. Of course, you should only take this approach if the information is suited to being presented in this way.
The pros of landing the featured snippet
Image source: Silvan Arnet (via Unsplash)
The most obvious advantage of earning the featured snippet is that your page is sitting in the top spot. This space is referred to as position zero, because you rank even higher than the organic listing that is technically number 1. This results in more visibility for your website, as that top spot is where most searcher's eyes fall first. On top of this, the featured snippet is larger and presented in a different way to regular organic listings. This draws the eye and can encourage people to hold their attention here for at least a few seconds.
It's also good for your reputation! The fact that Google has selected your content to provide the best answer for a certain keyword brings with it a level of authority. Users are likely to assume that your brand is trustworthy and perhaps even an expert on the topic being searched.
Both of the above benefits mean that pages that earn a featured snippet enjoy increased organic click-through rates. This is, of course, one of the main aims of SEO and explains why featured snippets play such an important role in this pursuit.
Potential downsides of featured snippets
Image source: kaleb tapp (via Unsplash)
Do some digging, and you'll find that Google provides tags that web developers can use to opt out of featured snippets. Why would anyone want to purposefully miss out on the top spot, you ask? Well, it's not all sunshine and roses up there.
For starters, while landing the snippet can increase your click-through rates, in general, SERPs where featured snippets appear experience fewer clicks overall. As we've covered, this is because the user often gets the answer they need from the results page. That being said, opting out of the featured snippet hardly guarantees that your page will appear on page 1 anyway. Plus, a study by Moz found that opting out of featured snippets caused site traffic to drop by 12%.
A big change in early 2020 also contributed to featured snippets losing some of their shine. You see, previously, if you earned the snippet, your page would also appear somewhere on the first or second page in the regular organic results. In other words, you'd get twice the visibility! In an effort to tidy things up a bit, though, Google put a stop to duplicate listings. This caused the enthusiasm around featured snippets to dampen slightly.
The fact that landing the featured snippet gives your site an air of authority can have its downside. Just ask the folks over at Sterling Sky. They did such a good job optimising for a keyword on how to contact Google My Business, that their article secured the featured snippet. As a result, numerous searchers assumed that they were GMB and proceeded to contact them frequently with misdirected queries. D'oh!
A few stats and facts on featured snippets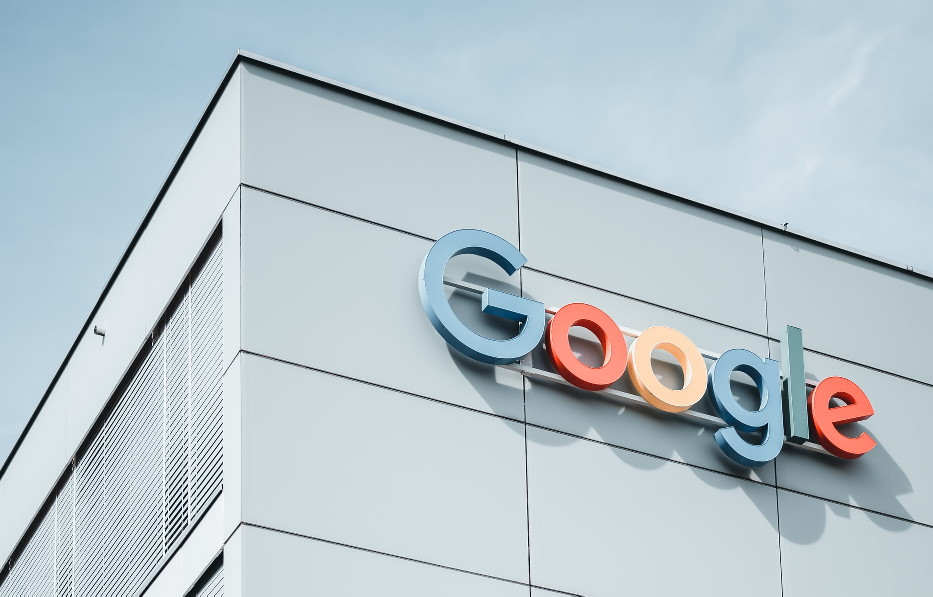 Image source: Alex Dudar (via Unsplash)
According to a major study conducted by Ahrefs, 99% of all featured snippets are from pages that already ranked on page 1. 
In late 2018, Google tested double snippets, whereby two separate featured snippets provided by different sites appeared at the top of certain SERPs. These remain incredibly elusive and it doesn't appear that they'll be rolling out any time soon.
In 2020, nearly 65% of searches resulted in zero clicks. This is presumably at least partly down to the presence of featured snippets on the SERPs.
In late 2020, Google started testing the inclusion of contextual links within featured snippets. These are links to websites separate to the one being used for the snippet itself, which provide clarification on certain aspects of the overall topic discussed in the snippet.
A FEW TIPS TO HELP YOU GET STARTED WITH TARGETING FEATURED SNIPPETS
Precision and formatting is absolutely key to landing a featured snippet, so aim to produce high-quality, well-structured content.
As featured snippets contain very specific information, they tend to be triggered by longtail keywords. Make sure you explore these when conducting keyword research.
Worried about potentially low click-through rates? Include useful tables and lists in your content. As we've seen, these often trigger featured snippets that include 'read more' links.
You have little hope of bagging the featured snippet if your page isn't ranking well anyway. Strive to have a well-rounded SEO strategy and the rest should follow.
---
Lesson complete! You should now have a fairly solid grasp of featured snippets. We've just covered the basics here, but expect more advanced explorations of SEO topics like featured snippets from us soon.
Keep checking in on the Supersede Media blog so you don't miss out!