Though you might not think it, your website navigation can have a greater impact on your visitor retention rates than anything else on your website—even your design and copy! It can affect user experience, conversion rates and even your search rankings. Don't despair though! Supersede Media is here to help you improve website navigation in 14 simple steps.
---
What is website navigation?
Website navigation is what enables visitors to move from page to page on your website. It makes use of items like links, buttons, menus and footers to encourage visitors to stay longer on your website, connect with your brand and, hopefully, become a qualified customer.
If you've not made the effort to ensure that your website navigation is straightforward enough to allow visitors to find what they're after, without jumping through several hoops, you might as well wave goodbye to the majority of your audience. After all, there are plenty of other websites out there that are offering similar services, with better website navigation.
Fortunately, you can wave goodbye to this nightmare scenario by taking the time to improve website navigation with our handy tips!
14 Ways to improve website navigation
1. Think about page structure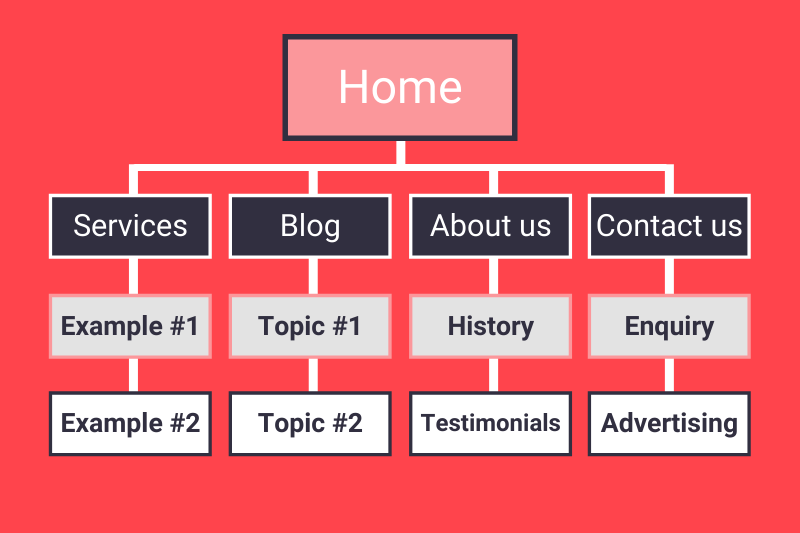 Ideally, before you even launch your website, you'll want to think about page structure. In other words, how all of your pages will link together. This is vital in determining how your visitors will navigate your website.
To do this, create a sitemap and flow charts so that you can properly visualise how everything links together. The most important pages will end up closer to the top and will likely feature on your navigation bar.
As a general rule, you want your visitors to be able to find exactly what they're after in 3 clicks, so you'll need to think carefully about which pages your visitors are most interested in and how they're able to access them.
2. Use simple, yet specific language
When it comes to creating your navigation bar and menus, you'll want to avoid using super niche, or industry specific jargon, as it could alienate or confuse your target audience. Your language needs to be simple and digestible in order for your audience to understand what you're showing them. (You're not dumbing things down for them, you're just minimising the chances of confusion!)
You'll also want to be as specific as possible about what you're offering. Head to most websites, and you'll see generic headings like 'Products', 'Services' and so on. If you're a huge eCommerce website, this approach will work well. If you're a smaller business, or you don't have dozens upon dozens of pages, you'll want to be more specific, e.g., 'Content', 'SEO', and so on.
This makes it easier for visitors to know exactly what you're offering without them needing to click through to your services page and then your subsequent pages.
3. Consider the order carefully
Believe it or not, a lot of time and consideration goes into figuring out which pages to include in a navigation bar. You need to look at which pages are most important to your business:
Is it your testimonials page because it highlights your skills and experience?
Is it your contact page because you want to encourage visitors to get in touch?
Ideally, the pages you want to nudge visitors towards will end up at the beginning and end of the bar—the closer you get to the middle, the less attention the items will get. People tend to remember things at the start and end of a list more than what's in between.
Done well, this can encourage your target audience towards your preferred destinations.
4. Opt for the 'less is more' approach
When it comes to your navigation bar, there's such a thing as too much choice. You should only have between five to seven items in the header in total—any more than this and you'll end up confusing your audience, and take up far too much space.
This rule also applies to dropdown menus. Unless you've got vital subpages that you feel need to be displayed to your visitors, avoid using dropdown menus. They'll only serve to distract, overwhelm or annoy your visitors. If they hover over one of the items on your header (which they intend to click on), only to be faced with dozens of subpages, they might lose interest and bounce.
5. Use mega menus if you need to
If you're a big eCommerce business, or you've got a lot of content on your website, you are the exception to the 'less is more' rule. You'll want to display all of your pages and products in order to help your visitors find exactly what they're looking for. The best way to do this is with mega menus!
These huge menus are deployed when a visitor hovers over one of your header items in the navigation bar. Typically, you'll split the items in your mega menu into digestible categories to make it easier for your visitors to find what they're looking for, e.g., Clothing > Activewear, Co-ords, Coats / Shoes > Boots, Flat Sandals, Flat Shoes and so on.
These menus aren't just great for user experience, they're also beneficial for your website's SEO as they allow you to list your keywords and associated pages in one place—increasing your chances of ranking well for keywords and helping search engines display your content for relevant queries.
6. Don't go too far out of the box
We all want our websites to stand out from the crowd, but if you go too far in this endeavour, you could end up pushing away your visitors entirely.
When it comes to the navigation bar and menu, you'll want to stick to the well travelled path. This means using a horizontal navigation bar at the top of your website, or a vertical one on the left.
It might seem unoriginal, but trying out of the box layout choices will only confuse your visitors and make it difficult for them to get to where they want to be. If you delay their journey for even a few seconds, it could make the difference between them becoming a qualified customer or deciding to bounce.
7. Consider a sticky navigation bar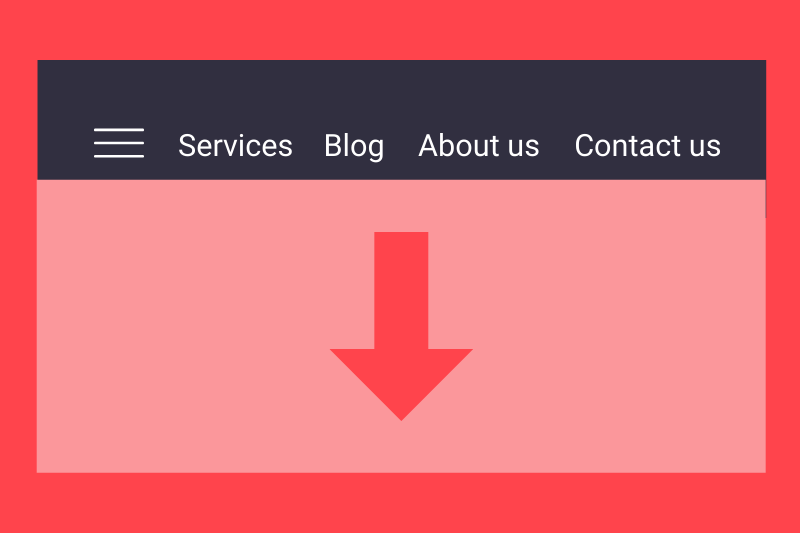 If your webpages are particularly long, you'll want to add a sticky navigation bar that will remain visible to visitors as they scroll. This is beneficial as it will allow them to navigate to other pages without having to scroll back up to locate the bar. It might seem like you're spoon feeding your visitors, but the easier you can make things for them, the better off you'll be.
You might also want to consider adding a navigation icon or button at the bottom of your pages to allow visitors to quickly flit back to the top of the page—you'll typically see these on websites in the form of an arrow. Again, it seems ridiculous, but if you're saving people a few seconds, it's worth it.
8. Link back to your homepage
If a visitor clicks on the wrong link, or decides they want to go back to the beginning of their search, the last thing they want to do is click 'back' several times—especially if they've spent minutes browsing your website.
A simple solution to this is a link to your homepage through your business logo. This will help your navigation run much more smoothly. It's also something that most businesses do, so if you've not done so already, you should follow suit.
9. Think about your CTAs
It's not just navigation bars and footers that help your visitors navigate to different pages on your website, your CTAs also play an important role. If you use them well enough, you could increase your conversion rates and push traffic to priority pages.
There are a couple of things you'll want to bear in mind when using CTAs on your website though. First, avoid using generic text like 'Click Here' and instead try to use something more snappy and persuasive. Second, the 'less is more' rule applies here—too many CTAs will confuse your visitors and ruin your attempts to direct their attention to your priority pages.
10. Don't let your visitors get lost
If your website is particularly large, it can be all too easy for your visitors to get lost in the midst of searching for something. You can get rid of this problem entirely by making it easier for them to figure out where they are: enter breadcrumbs.
Breadcrumbs allow you to leave a path of links for the visitor to follow, e.g., Home > Women's Clothing > Coats > Winter Coats. This not only shows visitors which page they're on, it also helps them see which pages they've moved through and gives them the ability to switch to a previous page.
11. Optimise your navigation for mobiles
We have spoken about the importance of optimising your navigation on mobile devices in the past with our tips to reduce bounce rate, but it's too important not to mention here also. It's absolutely vital that your navigation works well on mobiles, as most visitors will be using mobile devices to view your website.
If the dimensions of your dropdown menu are off, or your visitor simply can't find your navigation bar, they will leave and never look back. That's why you should consider creating a simpler version of your navigation bar for mobile devices—the hamburger icon is a popular and effective way to do this.
To see how well your website performs on mobile devices, run Google's test and make any necessary changes as soon as possible.
12. Consider adding a search bar
When someone lands on your website, odds are, they have a very specific purpose in mind, whether that's a particular product they're interested in buying, or a specific topic they want to learn more about. If you've got a lot of webpages though, it can be very difficult for them to find what they're after.
If you add a search bar, your visitors will quickly be able to find what they're after without having to trawl through your entire website. This will help you decrease bounce rates and, potentially, increase conversions.
Be sure to place the bar at the top near your navigation bar so that visitors will see it when they land on your website. It will need to take into account human error (typos) and offer up related products or pages to avoid visitors leaving immediately.
13. Implement a fat footer
Not sure where to put all of your important links and contact information? That's exactly what a fat footer is for! It allows you to offer visitors quick access to important pages that didn't quite make the cut with your navigation bar and dropdown menus, alongside vital contact information and social media links.
Don't worry about people not noticing it. By now, it's common practice for a lot of websites to use a fat footer, so people are more than used to scrolling down to find additional information and links.
14. Think about user intent
Before finalising any changes with your website navigation, you should think about what it is your visitors are after and how you can improve their user experience. It's pointless to design your navigation with yourself in mind—your visitors are the ones you need to impress.
So, step into their shoes. Use your buyer personas and competitor analysis to figure out what action(s) they'd take on your website and how you can make their journey even easier than it is already.
---
And there you have it! You've now got the means to improve website navigation and reap the rewards! For more handy tips and advice, head on over to the Supersede Blog or contact us directly.