Nowadays, there's no such thing as too little choice. Customers have hundreds of businesses to choose from, making it increasingly difficult to stand out from the crowd. If you're not on the ball, you could lose high-quality leads and prospective customers to your competitors. So, what can you do to stop this from happening? Conduct a competitor analysis!
We're going to walk you through what a competitive analysis entails, why it's so vital and the ten simple steps you can take to ensure it all goes smoothly!
---
Table of contents:
---
What is a competitor analysis?
A competitor analysis is a process that involves you identifying key competitors and analysing their strengths and weaknesses, in comparison to your own business. It will hone in on your competitors':
Product features and pricing
SEO, marketing and sales strategies
Customer service and user experience
In other words, you're gathering as much intel as you can on your competitors' business models, products/services and websites. It might seem a bit sneaky or underhanded, but let us assure you, it's something that most (successful) businesses do on a regular basis.
Why is it important?
Ever heard of the saying "Know thy enemy"? It might sound a bit dramatic, but it's a phrase that you should bear in mind if you want to stay relevant in your industry and outperform your competitors on every level.
It's not enough to simply sell the best products, or write the best copy, and call it a day. You need to identify and analyse your competition so that you can:
Understand why you're losing high-quality leads to your competitors
Discover gaps and trends that you can take advantage of
Gain insights into how you can improve your business model
Fine-tune your sales and marketing strategies
Do note, however, that a competitor analysis is not about copying your competitors. It's about knowing what your competitors are doing, so that you can do it even better.
---
How to conduct a competitor analysis



1. Identify your competitors
Image source: Firmbee.com (via Unsplash)
The first step in your analysis, as logic dictates, is identifying your competitors. If you're telling yourself, "Well, I don't have any competitors", we'll have to politely tell you that you're most definitely wrong in your assessment. Whether you know it or not, you've likely got dozens, if not hundreds, of competitors all vying for the attention of high-quality leads that could be yours.
Your competitors will fall into two main groups:
Direct competitors: those offering the same product or service, in a similar area and targeting the same audience.
Indirect competitors: those offering a similar product or service, in a similar area, but targeting a different audience.
So, how exactly do you find them?
If you search for your business using Google, you'll be able to look at similar businesses under 'People also search for'. Though they won't all be relevant, you might find one or two solid competitors to add to your list.
Next, make a list of all of the keywords and services that you're targeting in your marketing campaigns, e.g., 'SEO in Manchester'. You can then look them up in your search engine to see who else is offering the same services as you. It's likely that your top competitors will crop up either in the ads section, or on the first page.
Another way in which you can compile a list of competitors is by asking your customers which other businesses they were considering before purchasing your product/service.
2. Analyse their SEO strategy
Once you've got a list of around three to six competitors, you can start working on your analysis. The first step is to look at your competitors' SEO strategy. This means focusing on their website's SEO structure, targeted keywords and their backlink strategy.
Let's take a closer look, shall we?
SEO structure
Noticing a high bounce rate on your website? Realising that your competitors have better rankings on search engines than you? The problem might lie with your site's structure.
Everything from the format of your website's pages to its internal link structure can have a positive or negative effect on user experience. That's why you should have a look at how your competitors structure their websites to see if there are any ways in which you can improve your own.
This means looking at:
Page titles
Meta descriptions
URL structures
H1/H2/H3 tags
Internal links
Image size
Image alt text
XML sitemaps
Page speed
Mobile optimisation
The more you can refine your SEO structure, the more you'll be able to improve user experience and the more potential customers you might be able attain.
Don't know where to start? Get Screaming Frog to crawl your competitors' websites and your own!
Keyword analysis
Now it's time for you to carry out a keyword gap analysis. This means looking for keywords that your competitors are ranking highly for that you're not. Bear in mind, however, that just because a competitor targets a specific keyword doesn't necessarily mean that you should follow suit. You should only target keywords that are relevant to your business, and that you're likely to rank well for.
Although short-tail keywords have higher search volumes, they're also highly competitive and, as a result, very difficult to rank well for. This means that you should try to discover long-tail keyword opportunities instead, e.g., instead of targeting 'laptops', something like 'budget laptops for university' is much easier to rank for and closer to what your target audience is looking for.
Given that a single website might target hundreds, if not thousands, of keywords, and that you're looking at multiple businesses here, you'll want to avoid carrying this analysis out manually. Instead, use a tool like Moz's Keyword Explorer.
Backlink analysis
If done correctly, link building can increase your website's rankings, traffic and brand awareness. So, where do you start? Look at your competitors' backlinks! As with your keyword gap analysis, a backlink analysis helps you look for link opportunities by seeing which links your competitors have earned that you can also attempt to obtain.
Use a tool like Moz's Link Explorer or Ahrefs' Backlink Checker to compile a list of each competitor's current backlinks. Then, make your way through them to see if there's any overlap. If a website has linked to more than one of your competitors, there's a good chance that they'll be willing to link to you as well.
Need more help with your link building? Check out our guide on how to get high-quality backlinks!
3. Dig into their content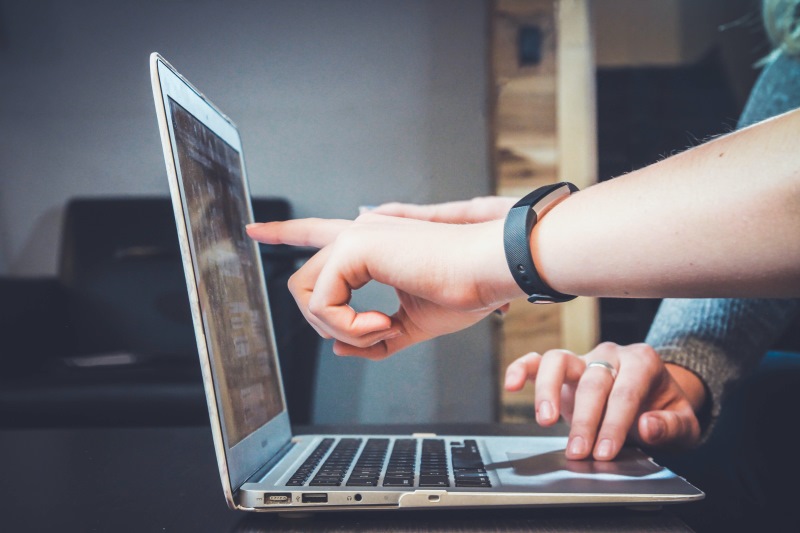 Image source: John Schnobrich (via Unsplash)
Next up on the agenda is looking at what types of content your competitors have been publishing. It's important to look at this so that you can figure out what works well with your target audience and what doesn't. If it seems like your competitors' content is getting higher engagement than your own, you might want to consider pivoting to a different content type or platform.
Head over to your competitors' websites and blogs to see exactly what they're publishing. Make a list of what content types they seem to favour, for example:
Blog posts
How-to guides
Case studies
eBooks
White papers
Videos
Newsletters
Infographics
Slideshows
Once you've got a rough idea of what content types they prefer, examine the topics they've focused on. Are there any gaps that you can take advantage of, or ways in which you can outperform them?
Round off your content analysis by looking at the frequency with which they publish their content. Are they publishing their blog posts more frequently than you, or are their posts few and far between?
4. Check out their social media
Now it's time for you to have a snoop at your competitors' social media accounts. This is where your competitors will be advertising their products/services and sharing content designed to engage their target audience. The aim of this is to help you find out how you can improve your own social media strategy.
Ask yourself:
What platforms do they favour?
How many followers do they have? Can you approach any of them?
How often do they post?
What's their engagement like? (Shares, retweets, likes, comments etc.)
What topics do they focus on? Is it all about their products, or related to the news, or do they share content from other sources?
If you notice that they're focusing on a platform you've never considered, or topics that are relevant to your business, weigh up how useful it might be to follow suit.
It's not just about focusing on their strengths, however. Keep an eye out for any glaring mistakes on their social media—do they frequently make typos, or ignore comments?
5. Examine their product/service
Image source: Markus Winkler (via Unsplash)
Your next course of action will be to go through your competitors' products and services with a fine tooth comb. This is where you might find specific examples of why you're losing potential customers to your competitors, e.g., superior product features, or faster shipping.
Head to their websites, advertisements and/or download any brochures or PDFs that they have so that you can accumulate as much information as possible.
What are the features of their products and services?
Do they have a unique selling point (USP)?
What's the minimum price of their products and services? Are there any factors that impact this cost?
What about their shipping costs? (Some people will switch to a different business if they get lower shipping costs out of it)
Focus on the strengths and weaknesses of these products and services, and you'll undoubtedly find gaps in what you're offering, or ways in which you can improve things to attain and retain customers.
6. Investigate their sales strategy
Now that you know what your competitors are selling, it's time for you to look at how they're selling their products and services, and what kind of features they're focusing on when approaching customers.
No matter how similar your products and services might be to your competitors', you're bound to find stark differences between your sales processes. So, ask yourself:
How do they sell their products and services? Is it through email campaigns, physical stores, on their website or over the phone?
What is their sales process like? In other words, how does one go from potential customer to an actual buyer?
Do they offer any discounts or promotions?
How much do they emphasise their sales team? Do they offer consultations or additional help over the phone?
By looking at these sales processes, you can determine how your competitors are able to encourage customers towards the final stage of making a purchase, e.g., loyalty schemes, 1:1 consultations or 24/7 intercom chat.
7. Understand their customer journey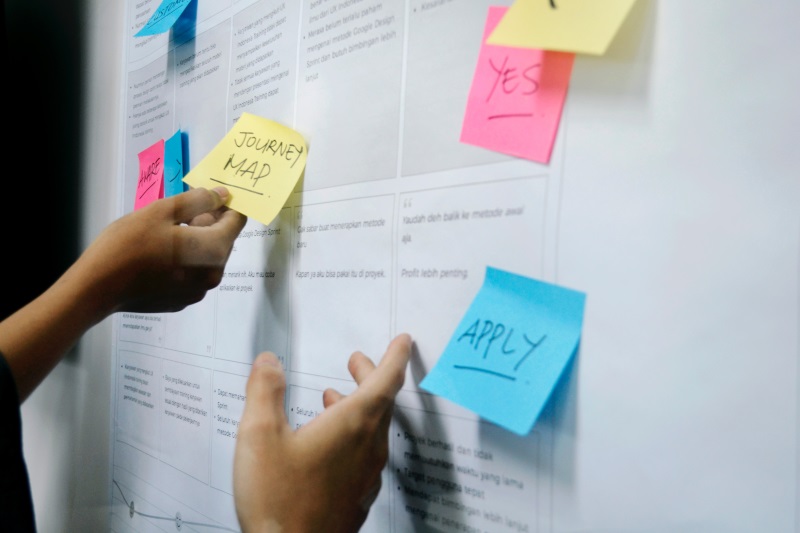 Image source: UX Indonesia (via Unsplash)
If you want to convert potential customers to buyers, you need to make sure that their customer journey is as smooth and pain-free as possible. If your customers have to jump through several hoops to make a purchase, they'll likely cut all ties with you and jump ship to one of your competitors instead.
With that in mind, take a peek at what your competitors' customer journeys are like to see if you've missed any opportunities to convert potential customers. The best way to do this is through mystery shopping. Simply head to your competitors' websites and take yourself through the customer journey as if you're making the purchase yourself.
8. Scrutinise their customer service
Any business worth its salt makes sure that its customer service is up to snuff. If not, they run the risk of being overrun by bad reviews and disgruntled customers, all the while repelling any potential customers. With the right customer service, however, you can soothe irate customers and alleviate any bad experiences with a well thought out message or phone call.
Analysing your competitors' customer service will help you determine whether or not there are any improvements to be made to your own. So, head over to their social media or review websites like Trustpilot.
How quickly do they respond to comments or complaints?
What kind of responses do they post? Are they all the same generic messages, or do they personalise them?
What do customers complain about the most? What are they happiest about?
9. Conduct a SWOT analysis
Image source: Athree23 (via Pixabay)
Now that you've accumulated all of the above information, it's time to polish it all off with a SWOT analysis. This is a process that determines your competitors' strengths, weaknesses, opportunities and threats.
Strengths: what do your competitors excel at? (Specific product features, SEO strategy, sales strategy etc.)
Weaknesses: what do your competitors drop the ball on? (Poor user experience, shoddy customer service, limited product features etc.)
Opportunities: what opportunities can they take advantage of? (Limited competition, growing need for their product/service, media coverage etc.)
Threats: what obstacles stand in the way of your competitors? (Lack of interest in product/service, new competitors, negative press etc.)
Once you've carried out a SWOT analysis on your competitors, you can do one for your own business. This will help you pinpoint specific areas that you need to improve on if you want to stay relevant and outperform your competitors.
10. Avoid making silly mistakes
Don't just pick one competitor
To get a good understanding of who you're competing against, what they're doing better than you and how you can jump ahead, you need to pick at least three competitors (if not six plus) when carrying out your analysis.
Don't become a copycat
It doesn't matter how much you love a competitor's web copy, promotions or services, you should never attempt to copy them. For starters, it will lead to serious legal issues when your competitor discovers your plagiarism. Not only that, but often, what works for your competitors won't work as well for you.
By all means, take inspiration from your findings, but make sure that it's nothing more than that!
Don't assume it's a one and done deal
It can be a faff having to conduct a competitor analysis—no-one who has ever had to carry one out would dispute that. That being said, as taxing as it might be, it's not something that you should do once and then forget about.
Ideally, you want to do it every six months or so to make sure that you've got an up-to-date understanding of who your competitors are and what they're doing. Given that competitors are always emerging from the woodwork, it's unlikely that your list of competitors will remain the same forever. Keep that in mind!