Don't know where to start with your link building strategy? You could create shareable, user-focused content that has people scrambling to link to it. You could even collect your own data to be cited in articles. The easiest method, however, has to be spying on your competitors' backlinks. With a quick competitor backlink analysis, you could find hundreds of potential links to add to your profile.
We're briefly going to explain what a competitor backlink analysis is, before delving into a step-by-step look at how you can conduct one (with a handy template!) that will take your backlink profile to the next level. Let's get started!
---
Table of contents
---
If you've not got much competition, or you've wrung your competitors dry of their backlinks, find more ways to build up your backlink profile in our guide to
gaining high-quality backlinks
!
What is a competitor backlink analysis?
Link building can be a very difficult and time consuming process. Done well, it can boost your Domain Authority (DA) and level up your backlink profile. Done poorly, it can lessen your authority in the eyes of Google and wreak havoc on your SEO.
But where are you supposed to start? With a competitor backlink analysis! This tactic involves looking at your competitors' backlinks to give you a better idea of which websites might be willing to give you a backlink.
It's remarkably similar to a general competitor analysis. By putting your top competitors under a microscope, you can discover gaps in your own strategies that you can fill in to increase your chances of surpassing them.
---
How to conduct a competitor backlink analysis
Backlink analysis tools
Supersede Media makes use of Moz's Link Explorer tool for the purposes of this article. If you haven't got a Moz Pro account, you can get a free 30-day trial to test out their full range of products.
If you're not a fan of Moz, or you've already used up your free trial, there are other tools available:
Get a read on your own backlink profile
Before you can start spying on your competitors' backlinks, you first need to know what your own backlink profile is like.
This will help you:
Determine how much work needs to be done for your link building strategy
Compare your backlink profile with your competitors'
Track new backlinks with a side-by-side comparison with your next profile
This is pretty straightforward with Moz. All you have to do is head to Link Research > Inbound Links and paste your URL into the search bar. Once you've done that, check the box to limit results 'to one link per domain' and then click 'Export CSV'.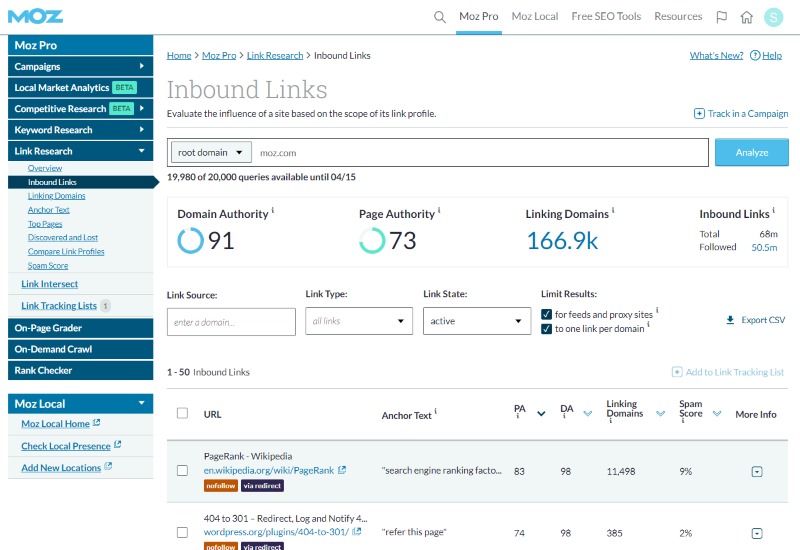 This CSV can then be opened in Excel, or as we prefer, in Google Sheets. You can then create additional sheets for newer versions of your backlink profile every three months. This will allow you to keep an eye on new changes.
Compile a list of your competitors
To actually conduct a competitor backlink analysis you, unsurprisingly, need a list of competitors. You can find them by:
Searching for your own business in Google and looking at other businesses that crop up
Looking up keywords you're targeting to see who else is offering the same products/services
Asking your customers which businesses they were going to go with before purchasing your product/service
For the purposes of this analysis, we'd advise you to limit your list to no more than four competitors. Depending on how large these businesses are, you could be looking at thousands of links. If you're able to move through your analysis quickly, you can always return to this list at a later date.
Gather their backlinks
Now it's time for you to compile your competitors' backlinks using the exact same process outlined above in the 'get a read on your own backlink profile' section.
Depending on how large your competitors are and how many people are working on this competitor backlink analysis, you can either:
Randomly choose a competitor, export their backlinks and move through the analysis below
Check how many backlinks each competitor has, pick the one with the most/least backlinks (depending on how much time you have) and move through the analysis
*We prefer working on spreadsheets in Google Sheets, but feel free to use Excel if that's what you're more comfortable with!
Competitor backlink analysis template
If you'd prefer to copy and paste your backlink data into a perfectly formatted spreadsheet that already comes with the columns needed for the analysis, simply use our handy template!
Get rid of unnecessary information
First things first, Moz gives us a lot of information with each backlink, but for the sake of speed we tend to get rid of a fair few columns. We're also going to be adding quite a few of our own, so whittling down the information saves us from getting overwhelmed later!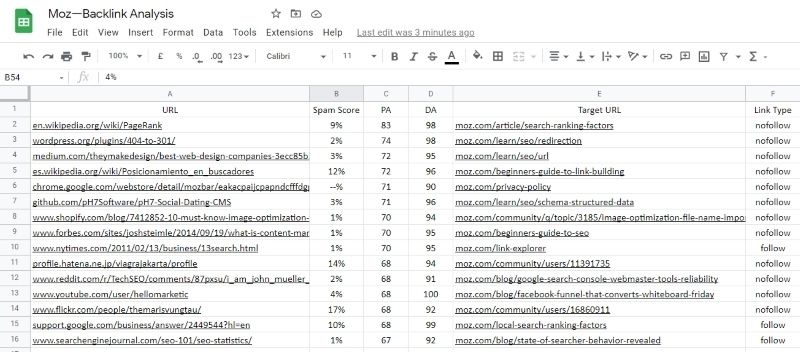 As you can see in the screenshot above, we removed the following columns from our CSV:
Title
Anchor Text
Linking Domains to Page
Link Status
Date First Seen
Date Last Seen
Date Lost
HTTP Status Code
Links to Page
Outbound Domains from Page
Outbound Links from Page
Bear in mind that this is just a recommendation! If there's information there that you think would prove useful to your link building strategy, by all means keep it in.
Format the sheet and order your links by DA
Before we get stuck into the analysis, we'd advise you to format your sheet so that it's a bit easier on the eyes. Whether you're opting to simply widen the columns to better see the contents of your cells, tweaking the font to match your branding, or adding a splash of colour, it will make a huge difference.
Once that's sorted, you'll want to order your data by Domain Authority. This is a metric developed by Moz that measures how successful a website is in terms of search engine performance. The closer a DA is to 100, the stronger its standing is in the eyes of search engines like Google.
All you have to do is highlight your sheet and select the funnel icon which allows you to create a filter. You can then sort your DA column 'Z -> A' (largest to smallest).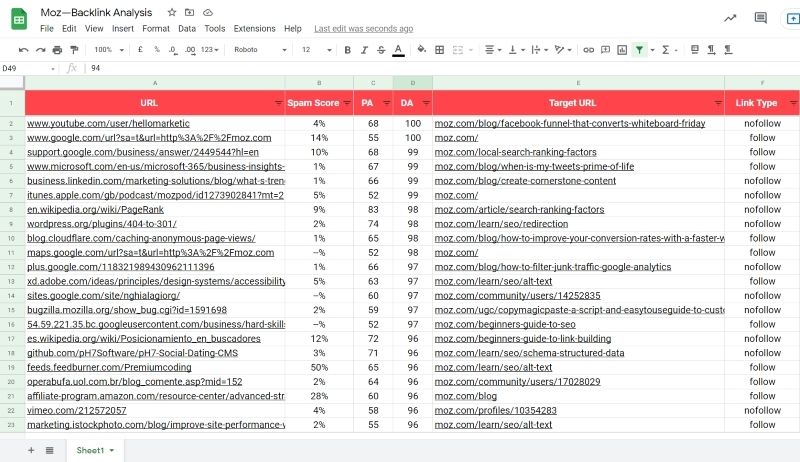 Assign categories
Before you can start building your own links with the websites used by your competitors, you've first got to categorise the websites on your list. Depending on the category they fall under, you'll need to take different steps to acquire a link.
Add a column labelled 'category' and then categorise each website using the labels below.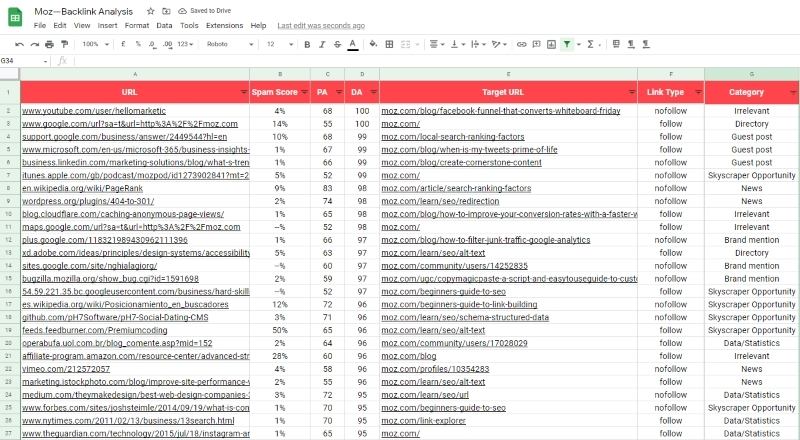 Spam
If the Domain Authority of a website is extremely low and the URL looks dodgy (DO NOT CLICK!), label it as spam and move on. You don't want these websites to link to yours as it could lessen your authority in Google's eyes.
Irrelevant
If your competitors have managed to obtain a link from a high DA website, but it's not entirely relevant, e.g., it's from an unrelated industry, or it's from a business that they sponsor, label it as irrelevant. There's no point trying to obtain a link from a website that won't direct relevant traffic to your website.
Directory
Though a large majority of directories are spammy, that's not to say that directories should be avoided. There are some high-quality or industry-specific ones that can help you build up your backlink profile. If more than one competitor has linked to a specific directory, it's a fairly good sign that you should follow suit.
Forum/comments
Many websites use forums and blog comments as an opportunity to gain backlinks that will direct relevant traffic towards them. As an example, if we saw someone asking about keyword research tools on Reddit, we'd reply with our top picks along with a link to our handy guide to the best keyword research tools in 2021.
If the backlink in question is recent, jump in on the discussion and add your own comment along with a link to a relevant article. Alternatively, make a note of the forum or blog and keep an eye out for relevant questions that you can respond to with relevant links.
Brand mention
Spotted a few websites that include your competitors' links in reviews and other types of listicles? If you think your website is on par with theirs, there's no reason why it shouldn't feature in the same posts. All you have to do is get in touch with the website/author, explain why your website is just as (if not more) valuable as the other businesses on the list and wait for a response.
News
If your competitors frequently publish newsworthy content, or do something to put themselves in the spotlight, there's a good chance that they'll be quoted or featured on a news website. Take a note of these websites so that you can approach them in the future to either link them to newsworthy information you have, or for the chance of covering a story involving your business.
Data/statistics
In a similar vein to news pieces, some websites will link to your competitors if they've compiled their own data/statistics for a certain topic. If you've got better/more in depth data, get in touch with the website to see if they'll replace the link, or bolster the information with a link to your website as well.
Guest post
Noticed that your competitors have written guest posts for similar websites? If the topics they've covered are ones you could also write about, get in touch with the websites to see if they'd be interested in you writing content for them.
Skyscraper opportunity
The Skyscraper Technique involves finding a successful piece of content that has been linked to by quality websites, creating something even better and asking these websites to promote your work instead. (In other words, you're stealing backlinks from your competitors!)
This is time consuming and will require a lot of hard work, however the potential pay off can be immense.
*You might need to create some of your own labels here when categorising the links. It also might make things easier for you if you colour code each label.
Plan your backlink outreach strategy
Now that you've got your backlinks categorised, it's time to plan your outreach strategy. To keep track of this, you'll need to add a few extra columns to your spreadsheet.
Probability
Some backlinks will be easier to obtain than others, so you'll want to add labels to each one so that your team is made aware of this:
High probability: it's very likely that you'll be able to obtain this link
Medium probability: it's possible that you'll be able to obtain this link
Low probability: it will be difficult to obtain this link
N/A: for irrelevant or spammy sites
To put this into perspective, there's a high probability that you'll be able to obtain a link from a directory, but a low probability that you'll be able to obtain a link from a website for a skyscraper opportunity.
Bear in mind that just because it might be difficult to obtain a link doesn't mean you shouldn't give it a try—it just means it'll take more work and more time.
Contact information
In order to reach out for a backlink, you'll need to get your hands on each website's contact information. This will usually be an email address, but can sometimes be a general contact form on the website instead.
This step isn't necessary for most directories—they usually involve a simple submission form.
Date contacted/date of follow-up
You'll want to keep an eye on how long it's taking each website to get back to you about your backlink, so add a column to track the date of first contact. Some websites will take weeks to respond, and others simply won't reply at all. If you think the opportunity is valuable enough though, you'll want to send a follow-up email. In this case, you'd need a second column to track the date of your follow-up.
Result
Once you've reached out to these websites, they'll either let you know that they can/can't add a link to your website, or just ignore you. You'll need to note down the outcome with the following labels:
Success: if you've checked the website and confirmed that the backlink is working correctly
Pending: if the website has agreed to add the link, but it isn't live yet
Failure: if the website has ignored your attempts to contact them, turned down your offer or has encountered issues with adding your link
Depending on the number of websites you've reached out to, and how strongly you feel about your failed attempts, you might want to consider adding an additional column with a reminder date to get in touch with them further down the line.
Backlink checker approved?
Now that your link is live, all that's left to do is wait for it to appear in the next backlink analysis you conduct. Depending on the website in question, and your choice of backlink analysis tools, it might take months for new backlinks to show up.
And repeat
Now that you've made your way through the analysis for one competitor, you can follow suit with the rest.
If your first competitor had thousands of links to trawl through, and a lot of them are viable, you might want to leave the rest of your competitors until you're ready to conduct another competitor backlink analysis further down the road.
On the other hand, if you're hellbent on obtaining only high-quality links, you could analyse all of your competitors' backlinks and then cherry pick the top ones—taking the best of the bunch from all of them.
---
Keeping track of your backlink profile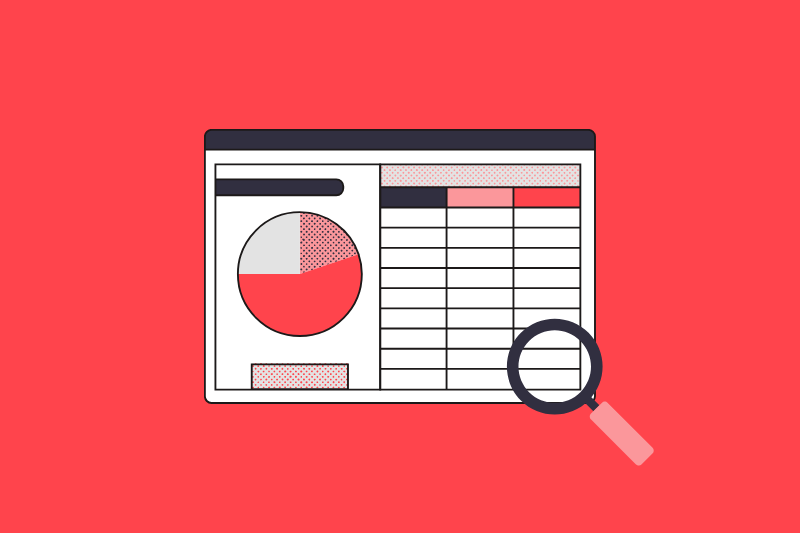 In order to ascertain whether or not your link building strategy is working, you need to keep an eye on your backlink profile. We'd recommend exporting your backlinks every month or so as you work towards obtaining new links. This will help you spot new links quickly and also allow you to keep track of any potentially dangerous backlinks.
You should also keep an eye on:
Domain Authority: there's a chance that it might increase/decrease due to the changes you've made to your backlink profile
Traffic: high-quality links from high-quality sites could push more traffic to your website from the SERPs and referral websites
Rankings: some of your content might move up in the SERPs due to your newly acquired backlinks.
---
Now you know how to conduct a competitor backlink analysis, you'll be able to start working on your link building strategy! If you're still struggling though, Supersede is here to help. Get in touch with us today and we'll show you how you can supercharge your backlinks!