Hello there, Supersede readers! Long time no see! We're pleased to be back and bringing you a brand new roundup of SEO news covering the first month of 2023. Let's not waste any more time—here are the headlines!
January 2023: the top stories
We start off January's roundup by taking a look back at 2022. More specifically, we'll be taking a look at developments in PPC, where, for the first time since 2014, Google and Meta didn't take a majority of ad dollars. Next, we'll look at the unlikely return to search of one-time giant Yahoo, before rounding things off with an examination of the potential of infinite scroll to disrupt the SEO field.
Google and Meta lose grip on US advertising market in 2022
While Google has long been the master of organic search, the field of pay per click has always been far more open. However, while numerous competitors have claimed their own share of the PPC pie, more than half of it has gone to just two companies: Google and Meta. At least, that was the case every year since 2015—until 2022 upended things.
Data cited in The Wall Street Journal indicates that the hold this duopoly had exerted over the digital advertising space is steadily being broken. In 2022, Google and Meta's combined share stood at 48.4%. That's despite a slight increase in Google's individual share, with Meta's percentage decreasing by over 3%.
The decline in time spent on the two networks' websites in recent years goes some way to explaining the development. Additionally, Meta suffered from Apple's decision to require iPhone users to consent to tracking. With most opting out, the effectiveness of Meta's targeted advertising significantly weakened.
However, the emergence of new players is undoubtedly reshaping PPC as well. Once again, we return to TikTok. Their share of the digital advertising market is still small, at around 2%—but that's more than double its 2021 figure. Amazon's share, meanwhile, grew for the seventh year in a row. Then, there's the plethora of ad-supported streaming services, which are making their presence felt.
Looking ahead, Google and Meta's combined share is set to fall further in 2023 to an estimated 44.9%. The overall market, meanwhile, is expected to slow to 9.2%—a far cry from the mid-pandemic high of 41% in 2021.
Yahoo is planning a return to search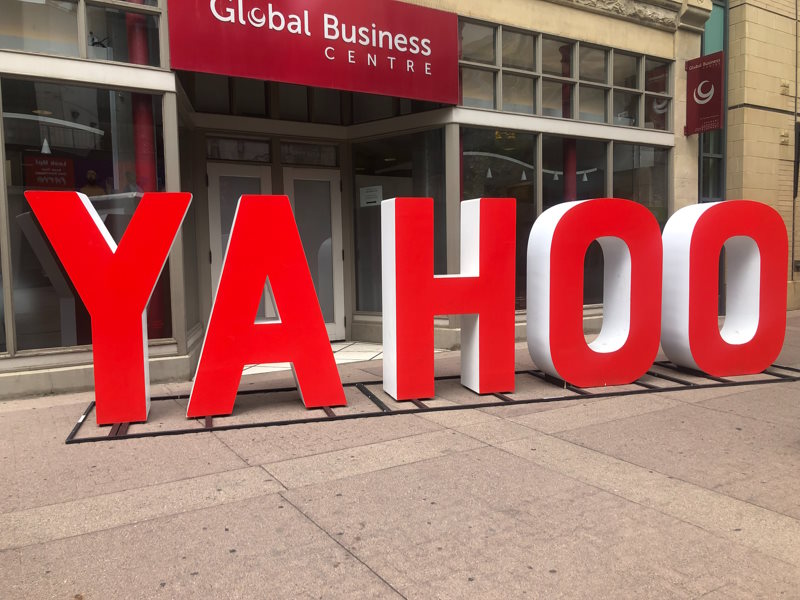 It's rare that we feature stories from Yahoo in our monthly roundups. Today, the company feels like something of a bit-part player in comparison to the titans that dominate the web—but it wasn't always so. Back in the 2000s, the site was the world's most visited, only losing its position to Google towards the end of the decade.
It might surprise you to learn that, according to rankings compiled by SimilarWeb, Yahoo is still amongst the top ten sites worldwide. However, its search engine hasn't been independent since 2010. For most of that time, it's been powered by Bing, save for a four-year period where the site displayed results from Google. However, it seems plans are now well underway to bring search back in house.
On January 13th, the company posted a job listing advertising for a new Principal Product Manager for Yahoo Search, with the successful candidate tasked with "[helping to] develop our search strategy and roadmap and [leading] its execution".
Then, there have been a series of tweets on a resurrected Yahoo Search account that all but confirmed the company's new direction:
Right now, all we know about the relaunch is that it's happening. There's virtually nothing in the way of details just yet. And, of course, any attempt at revitalising the Yahoo Search brand will come up against one crucial question: why not just use Google? Nonetheless, the company's long history means this will be a story worth watching.
How will infinite scroll change SEO?
Since time immemorial (okay, maybe the nineties), the goal of search marketers has been to get sites ranking as highly as possible. Position one is the dream, of course, but an important metric has been page one. The exact number of results featuring on page one may have varied, and SERP features such as image packs and snippets have opened up new pathways to getting there, but getting to the first page has remained a key target for all of us working in SEO.
However, a shift is underway. First mobile and now desktop sites are seeing the old system of pagination replaced with infinite scroll. Indeed, Google recently began rolling this feature out on its desktop site for US English results. As a result, those of us working in search have begun asking what the impact will be on SEO.
The team at Search Engine Land have come up with a range of hypotheses about the potential impact of infinite (or, to be more accurate, continuous) scroll. Amongst them, they theorised that users may be likely to view more results, with the result that the top three lose some of their dominance. There may also be an uptick in ads and SERP features, and, yes, the end of the traditional 'page one'.
Nevertheless, ranking as highly as possible will still be a top priority, and the three highest-ranked results are likely to continue to obtain the lion's share of clicks. As such, SEL advises going for 'low-hanging fruit' where possible to snag more of those top positions, as well as leveraging features such as People Also Ask boxes.
---
NEWS IN BRIEF
Want some more top stories? Don't worry—there's plenty more going on in SEO! Here are a few extra headlines:
---
SEO advice we love
The Supersede Media team is always learning from those around us. This month, we're recommending you to check out these pieces of SEO advice:
---
Tip of the month
Everyone experiences buyer's remorse at some point in their life. However, when you're a business, you want to reduce the chances of this happening. To figure out how to do this, we must first understand why it occurs."
A dissatisfied customer can be a big headache for your business—and for more than one reason. There's the risk that they could return their purchase, of course, which could put a dent in your revenue. Additionally, you could find yourself facing negative reviews, souring perceptions of your brand. While it's not always possible to avoid these scenarios, you can take action by being aware of what can trigger them. This includes feelings of buyer's remorse. In the latest in our Consumer Psychology series, we'll talk through the reasons why this feeling arises, before introducing you to a range of copywriting hacks to reduce buyer's remorse.
---
And we're done! That's a wrap for January—check back next month for more SEO headlines.