If you've landed here you've hopefully already checked out how to start a blog and build up a following. Now, it's time to earn some revenue from all of that hard work you've put in! There are numerous ways you can monestise your blog, but today we focus on a select few that are accessible to those with a range of audience sizes. Let's begin!
Things to consider before you monetise your blog
Before diving into the revenue-raising avenues you can take, here are a few key points to keep in mind on your journey to monetisation:
Earning income from a blog takes time and shouldn't be your first priority. If you switch to a monetised approach too soon, you risk losing some followers.
How you choose to monetise should always be in tune with what your blog is about and what is of value to your target audience.
Don't neglect the blog when the money starts to roll in. For long-term financial success you need to keep the blog popular and thriving.
Allow ads on your site
Image source: Paulo Silva (via Unsplash)
One of the most obvious ways to monetise your blog is to set up online ads. This involves providing advertising space on your site, in return for which you can earn a small fee when your audience interacts with the ads. The easiest way to go about this is by setting up an account on Google AdSense. You just need to provide some details, add some code to your site and Google will do the rest.
The upside of this is that it is fairly low maintenance on your end. Google selects the ads, places them and keeps track of impressions. You can just leave it running in the background, allowing the money to trickle in while you focus on other things.
There are a couple of downsides to this approach, though. First of all, unless you have built up a huge audience (we're talking at least 1000+ hits a week) the income you earn will be small. Secondly, the presence of ads can have a negative impact on user experience of the site.
The time it takes for the ads to load can affect your page speed and thus undermine your SEO efforts. Plus, ads are designed to be distracting, so they may pull attention away from your actual content. If you do decide to go with online ads, keep track of how they appear on your blog. If your blog starts to resemble Times Square, you've gone too far!
Start selling merch
Building a blog following means that you have a solid base of people who enjoy the free content you are producing. Whether your work is educational, entertaining, or both, it's likely that some of your loyal readers will be thrilled at the opportunity to show their support.
A neat way to both solidify your following and earn some money is to produce merchandise. This could be anything from a pencil case to a t-shirt with your blog branding on it. If you're a creative person, you could design the merch yourself, but there are plenty of artists and companies out there that you can commission to craft something for you. You could even give your followers the opportunity to create some designs!
Set up a shop page on your blog where followers can peruse what you're selling. Along with a welcome bit of revenue, the people buying your merch will be providing you with free advertising when they wear or use it. It's a win-win!
Share your expertise
Image source: Chris Montgomery (via Unsplash)
If you know enough about certain subjects to write a blog worth reading, chances are you have skills that are worth sharing!
Consider selling tickets to webinars or 1-1 classes on your specialist subject and promote these opportunities on your blog. You could even teach people about blogging itself. Unsure if your advice warrants a price? You can always start by asking for any donation that people feel is appropriate.
It is important that you put a lot of effort into the content of these lessons or events, to ensure that people are getting enough bang for their buck. A good way to get started is by writing a list of the tools or skills that people will gain. As you create and structure the courses, check off the points where you think these have been achieved.
You can share your expertise via virtual meet-ups, in person, or even through pre-made videos or documents that can be sold in your online shop. Starting with a live webinar is a useful way to test the waters for a potential future course. Similarly, if text-based content on your area of interest proves popular, you could even consider creating a full e-book! See what resonates with your audience and go from there.
Introduce paid content
You should always have free content available on your blog. That being said, you can also introduce exclusive material that people must pay to access. Once this is in place, you can start to sell various membership packages in the form of subscription plans.
Top members, for example, may have access to every area of the site, along with exclusive discounts. Those on the next level below might enjoy 4 paid articles a month, and so on. You can encourage membership with fun incentives like the ability to vote on the next post topic, or early access to contests or events.
When deciding on pricing, do keep in mind that not all of your base will have the financial means to gain access to everything. Don't alienate these people. They still provide valuable traffic and deserve great content that will keep them coming back.
For this monetisation route to be fruitful, you must nurture the community you've created and interact with them regularly. Don't just build a following—build relationships. Learn names and facts about your core fans and check in on them via forums, comment sections or their social media accounts.
Collaborate with brands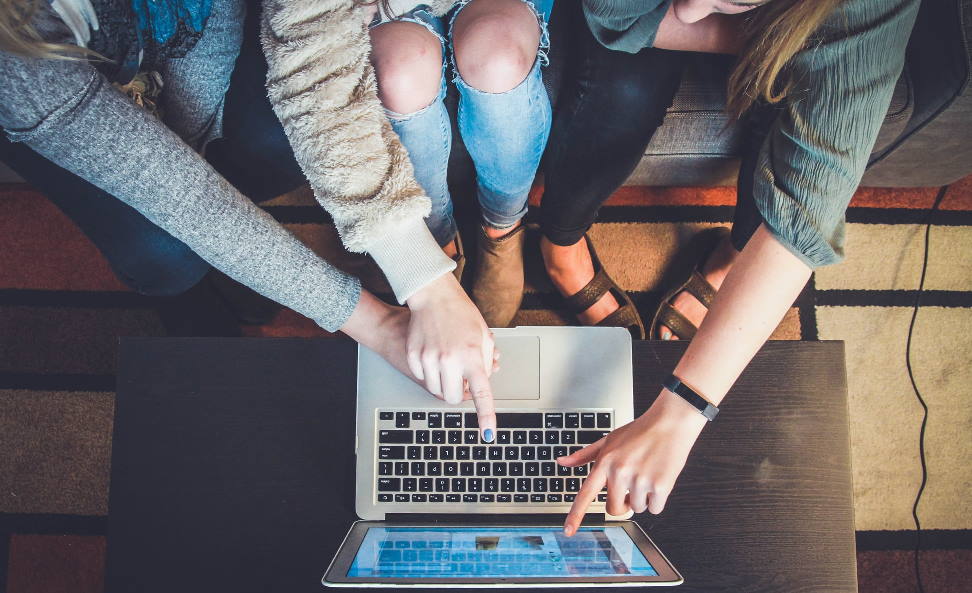 Image source: John Schnobrich (via Unsplash)
Anyone with an established following is appealing from an affiliate marketing point of view. It's therefore worth reaching out to brands relevant to your audience to see if they'd like to collaborate. Some may even reach out to you first!
Affiliate marketing usually involves promoting a service or product within a piece of your content. This could be in the form of a full blog article or a social media post. If any of your followers decide to purchase the product or service via the links you provide (they can also do it by quoting a special code you give at checkout), you earn a fee. It's really important when creating this type of content that you make it clear that it is a sponsored post. Influencers including bloggers have found themselves in hot water for not accurately labelling advertising content!
Be smart with who you decide to work with. The product or service you are promoting should match the values and purpose of your blog. If you publish sponsored content that doesn't feel authentic to the brand you've built, it is unlikely to be successful and may even undermine your existing work. It's also important that you don't overdo it with this kind of content, as it can be off-putting to your audience. Most people will understand, though, that you need to be able to earn a living. If you do it right, they'll hopefully be grateful that you're pointing them in the direction of something that matches their needs!
Freelance blogging
Finally, though not a direct way to monestise your blog, you can use it as a jumping off point to do some freelance blogging. Your existing blog acts as your portfolio, and shows other sites why your input would be beneficial to them.
When you do produce articles for other outlets, be sure to let your followers know so that they can check it out. The more traffic and engagement you bring to the platform that is paying you, the more likely they are to offer you future work.
---
And that concludes our how to start a blog series! With these tips and tricks up your sleeve, you'll be well on your way to blogging success.
If you'd like hands-on help with starting a blog or improving an existing one, just drop Supersede Media a message via our contact page!