Everyone knows that customer reviews can make or break a business. With just a few words, a new customer can be encouraged to purchase a product, or be persuaded to avoid a business at all costs. What you might not know is that these very same reviews have the power to help you write better copy. This is where review mining for copywriting comes in!
We're going to explain what review mining is, why it should be in every copywriter's playbook and show you how it can be used to create copy that converts. Let's go!
---
Table of contents
---
What is review mining?
Review mining is something that we've briefly spoken about in our guide to levelling up buyer personas with psychographics. It's a process that involves analysing customer reviews to gain valuable insights about your product/service, your business and the minds of your target audience. These insights can then be used to improve your copy and overall marketing strategy.
The beauty of review mining is that it is a relatively straightforward process that is completely free, doesn't require as much data handling as, say, creating buyer personas, and has endless applications.
Why is it important?
As copywriters, it can be all too easy to get lost in crafting copy that revolves around what we want to focus on, rather than what our actual customers value. This is because, no matter how much we know about our target audience and our product/service, we are not our customers.
We might look at our audience research and decide that our customers value how beginner-friendly our product is, when in reality, they actually value our free shipping. It might not seem like a big deal, but knowing what our customers want can make the difference between someone purchasing or bouncing.
With review mining, we can gain valuable insights such as:
Our customers' main pain points
What our customers like/dislike about our product
Key objections they had before making a purchase
Ways in which our product/service can be improved
This information can then be used to help us craft better ad copy, product features and much more.
And that's not all! We can also use this data to get a better understanding of the type of language our customers use. From their interesting colloquialisms to their tone of voice, everything can be harnessed in our copy to make us more relatable and appealing to potential customers.
---
Review mining for copywriting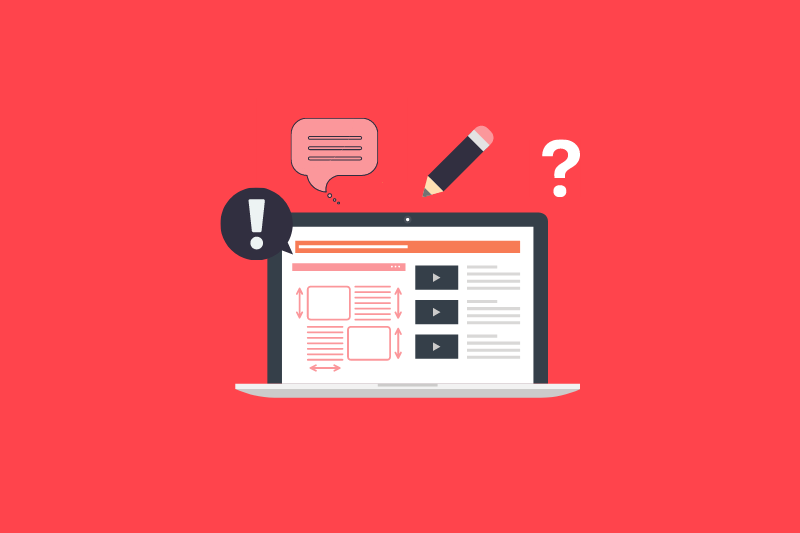 👉 Find your sources
Despite the name, review mining isn't just limited to scraping information from review websites. There are countless sources of valuable data that you can utilise in your journey, depending on the industry you're in, the size of your business and what your customer base is like.
➔
Review websites
Review websites are your first port of call for review mining for copywriting. If your business has been active for some time now, you'll likely have dozens, if not hundreds, of reviews on websites such as:
TrustPilot
Google Business Profile
Amazon
Yell
Yelp
Tripadvisor
Not got any reviews yet? Don't sweat it. This is what you've got competitors for! Just as conducting a competitor analysis can help you refine your website and SEO practices, looking at your competitors' customer reviews can help you improve your copywriting.
Simply draw up a list of your top competitors and head to the review websites their customers are active on. Though you won't be able to use any direct quotes from these reviews, you'll still be able to get a good idea of what your target audience likes/dislikes, their pain points and what their initial objections might be.
➔
Social media
The next source on our list is social media. Go through each of your accounts (Facebook, Twitter, Instagram, LinkedIn etc.) and compile a list of comments, interactions and mentions.
Though customer reviews will be longer and more in depth, social media comments can be much more valuable. The tone and language used will likely be closer to what your customers tend to use in their day to day lives. Additionally, these comments can be far snappier and quotable than the passages of text found in reviews.
If you're not very active on social media, or haven't got much of an audience yet, follow the same steps as the previous section and take a peek at your competitors' accounts instead.
➔
Live chat and phone conversations
If you've got a live chat feature on your website, consider looking over the transcripts to see what your customers are getting in touch with you about. Whether they're griping about the price or curious about a product feature, every piece of information can be used to refine your copy to better target your audience.
You can even sift through customer call transcripts, or ask your sales team to jot down key issues, questions and quotes from their calls!
➔

Forums

The last source on our list is forums. Sites like Quora and Reddit are very popular for people asking questions and discussing key topics. Though you probably won't find any posts about your business specifically, you will find ones that relate to your product/service and general industry.

This is a great place to find additional questions to add to your FAQs that you hadn't considered before, not to mention content ideas for landing pages, blog posts and social media posts.
👉 Compile and organise your data
Now that you have your customer data, it's time to pull it all together. If you're a close follower of the Supersede blog, you can probably guess what's next on the agenda. Yep, that's right. It's time to make a spreadsheet!
To make it easier to sift through, you'll want to create columns for the key areas you're focusing on.
➔

Source

This column is self-explanatory. All you need to do is mention where you got the customer data from. You can either copy and paste the URL of the website, or jot down the source, e.g., Facebook, Live Chat, Quora and so on.
➔
Data
This column is where you'll copy and paste your customer reviews, comments and other types of data. It can get slightly messy if you're dealing with long reviews, so you might want to pick out the best parts rather than pasting the entire thing.
➔
Keywords
Now we're moving into the fun part of the job! This column is where you'll note down any keywords that jump out from your customer data. If a review mentions how 'beginner-friendly' your service is, or how 'cost-effective' your product is, highlight it here.
These keywords tell you what your customers' top priorities are, what they value, and what they like/dislike about your business. You can utilise this information to refine your copy to better target your audience.
➔
Memorable/interesting phrases
Have you spotted a catchy phrase or compliment about your product/service? Direct quotes are one of the most valuable pieces of information you can gain from review mining. Real quotes from real customers will always supersede any copy that you create.
You can repurpose these quotes into email subject lines, social media captions, website headings and much more.
➔
User information
Do the customers disclose any details about themselves in their reviews or comments? User information can be very useful in helping your business become more relatable and marketable.
If your customers are talking about how much their families use your products as well, make references to how 'family-friendly' your products are in your product descriptions and general copy.
Other types of user information can include:
Age
Gender
Education level
Occupation/industry
Hobbies
Interests
➔
Pain points
Have your customers purchased your product/service to target a specific pain point? For example, were they looking to save time or money, or did a previous product not meet their needs?
Though you'll likely know what most of these pain points are already if you've done your research, you might find a couple that you hadn't considered before. By referencing them in your copy, you can be much more effective in persuading potential customers to take action.
➔
Likes
Do your customers highlight specific features that they liked about your product/service? Have they referred to your great customer service, or speedy delivery times? This information can help you determine what your target market actually values.
If the majority of your customers talk about how much they value your product's durability, for example, this is something you should be highlighting in your web copy and marketing campaigns.
➔
Dislikes
Do your customers complain about your customer service, website or key features? Have they highlighted areas that you're lacking in, or ways in which you've misled them?
This won't be the most pleasant task. After all, no one likes to deal with bad feedback. That being said, if you want to keep succeeding as a business, you need to address these problems.
➔
Initial objections
Have your customers spoken about why they held back from purchasing your product/service sooner, e.g., hesitation over the price or your lack of social proof? If so, do they mention why they changed their mind?
As an example, a customer might have been torn between making a purchase with you and one of your competitors because you both offer a product at the same price. After realising that you offer free shipping and free samples, however, they decide that you're the better option.
This type of information can help you get ahead of the competition. By highlighting initial objections that your customers might have, and countering them with specific features or benefits, you can rid them of their concerns and decrease the amount of time they spend debating the purchase.
Review mining template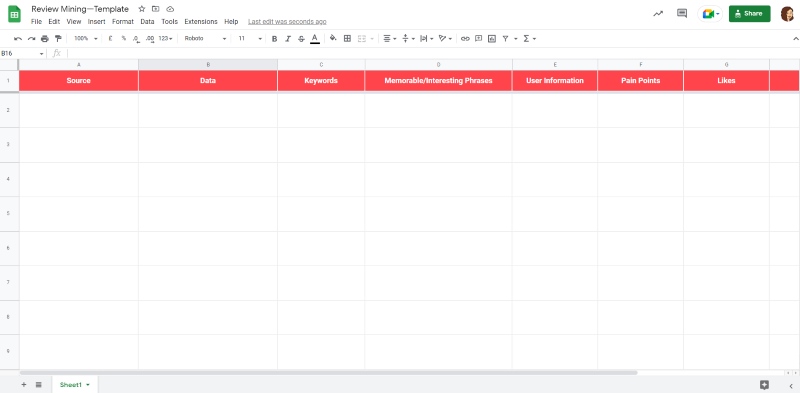 If you'd prefer to copy and paste your customer data into a perfectly formatted spreadsheet that already comes with the columns needed for the analysis, simply use our handy template!
👉 Look for patterns and standout data
Once you've filled out your sheet, it's time to start looking for patterns in the data and any other standout information you want to utilise in your copy. To make things easier, we'd recommend using a colour coding system.
As an example, in the memorable/interesting phrases column, you might use green for phrases that should definitely be used, orange for ones that could prove useful and red for ones that aren't relevant.
When it comes to columns like keywords and likes/dislikes, however, you'll need to utilise a slightly more complex colour code. For example, you could follow this type of system:
Blue for product features
Yellow for pricing
Purple for accessibility
Pink for customer service
Though it might seem like overkill, you'll need a system like this in place if you're dealing with a lot of customer data so that you can quickly pinpoint emerging patterns.
👉 Utilise the information in your copy
Now that you know more about your customers—what they value, how they talk and how they feel about you—you can integrate this information into your copy. Not only will this make you seem more relatable to your target audience, it will also help to minimise their potential concerns and increase the chances of them becoming customers.
Using your standout quotes and key patterns, you can create:
Persuasive product pages that emphasise the benefits that real customers value
Emotionally-engaging landing pages with customer phrases and evidence to counter initial objections
Snappy and direct ad copy/social media captions with direct quotes and references to pain points
Informative blog posts that answer popular queries and issues that your customers have
That's just the tip of the iceberg! You can also use your customer data to help you create more entertaining email subject lines and CTAs, not to mention tailor your marketing campaigns so that they're more authentic and relatable to your target audience.
---
Look beyond the copy
Though we've mostly focused on review mining for copywriting purposes, the information you gather during this process can also be beneficial for informing the direction of your business, products/services and website.
If the majority of your customers are talking about additional features they'd like to see, for example, you might want to consider expanding your product range to match the demand. Similarly, if customer service or user experience seems to be an issue, it's something that you'll need to improve to avoid alienating future customers.
In short, the applications of review mining are endless. Plus, with your supply of reviews continually growing, you can go through this process a few times a year to keep your copy fresh and relevant!