Starting a new year can be both exciting and daunting for any business. Though it's a time for new opportunities, it's often difficult to know where to start with your strategies and campaigns. Lucky for you, Supersede has done all of the hard work and put together a list of the 10 ways to prepare for digital marketing in the new year. Let's go!
---
1. Check your progress
Before you start planning your content strategies and marketing campaigns for the new year, you first need to take a step back and look at what worked and what didn't work last year. This will help you determine where you need to focus your efforts in the future.
This assessment will require you to look at every aspect of your business, from your content and SEO to social media and email marketing…
Content: 
Which landing pages and/or blog posts were the most and least successful?
Which topics were your audience most interested in?
What content types were most successful?
SEO: 
Which keywords were the most and least successful?
How many featured snippets did you acquire and what for?
How many backlinks did you acquire?
Email marketing: 
Which campaigns were the most and least successful?
What were your open rates like?
Which CTAs were most effective?
Social media: 
How many followers did you gain?
Which posts were most and least successful in terms of views, likes and shares?
Which post types were most successful (carousels, reels, text/image)?
These questions are just the tip of the iceberg, but they're still a great way to help you figure out what you need to improve on, what opportunities you can take advantage of and what you should steer clear of!
To ensure this assessment is as thorough as possible, we'd recommend creating a spreadsheet to track everything. Add a new sheet for each aspect of your business (content, SEO, email, social media) and compile all the relevant metrics for them using Google Analytics, Search Console, or whichever tool(s) you use.
If you want to make your job even easier, keep a copy of this spreadsheet and update it on a quarterly basis to stay on top of your performance metrics.
2. Do some spring cleaning
Image source: Oliver Hale (via Unsplash)
Next on the agenda is conducting a content audit. Though it might not be the most exciting way to ring in the new year, it will save you a lot of pain further down the road. After all, if you want to focus all of your attention on your new campaigns, you need to make sure your website is in order.
Working in a two-pronged approach, a content audit will help you fix any SEO issues that are plaguing your website (missing meta descriptions, broken links and so on) and shine a light on how to elevate your existing content.
We can't emphasise the importance of a content audit enough here. If you want to increase your chances of ranking well, and attract the right visitors to your website, it's vital that your metadata is shipshape. Similarly, if you want to reduce bounce rates and discover missed content opportunities, assessing your content's performance is a must.
3. Start using new content types
The new year offers you the opportunity to try something new with your website, blog and social media content. Though sticking with what you know and what you're good at can be beneficial for a while, your progress will eventually stagnate. If you step out of your comfort zone though, you could end up reaching more of your target audience and increase engagement.
Start by looking at our list of 21 content types and jot down the ones you haven't used yet. You'll then want to narrow the list down so that you end up with 3 to 4 in total. As fun as it might seem to try everything at once, you'll want to do it in small segments so that you can test which content types perform the best. You can then make it a goal to add new content types into the mix every quarter.
4. Look for new opportunities with your best content
Image source: Marten Newhall (via Unsplash)
After looking at your metrics, you should have a much better idea of which pieces of content performed the best last year in terms of traffic, conversions and overall engagement. Now's not the time to give yourself a pat on the back, however. You should be using these high performers to look for new opportunities…
Figure out what sells
Put your best content pieces under the microscope and look for anything that they have in common. If you're able to pick up on what it is that makes these pieces of content so appealing to your target audience, you might be able to replicate it with newer content.
So, get a list of your highest performing content together and look closely at aspects like topic, content type, word count and so on.
Repurpose your content
You can get even more mileage out of your best content by repurposing it. What we mean by this is that you can find new ways to reshape your content for your target audience to consume.
So, you could take one of your articles and turn it into a:
Slideshow
Infographic
E-book
Whitepaper
Checklist
Podcast episode
This repurposed content isn't just great for your website and/or blog, it can also help you grow your social media presence.
5. Consider your budget
Whilst it might not be the most enjoyable step on our list, sorting out your budget for the new year is probably one of the most important things you can do. To figure out how much you can set aside for your new marketing campaigns, you first have to take a look back at:
How much you spent last year
What your return on investment (ROI) was
How effective your campaigns were
If, for example, you notice that your retargeting campaign didn't give you a good ROI, you can either pivot your approach or scrap it completely and use the extra money for something else that might offer more value.
6. Sort out a content calendar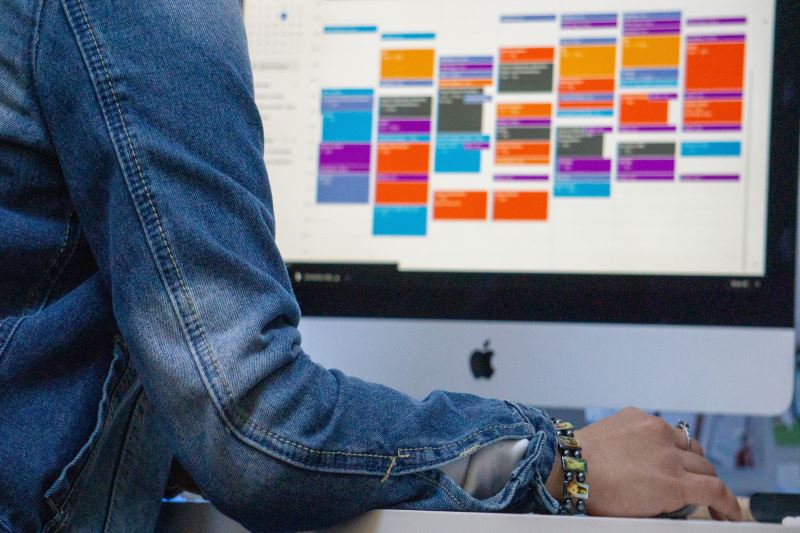 Image source: Nadeena Granville
The next thing you need to do is create a content calendar for the new year. It might sound challenging, but once you've completed the steps above, you'll have a much better understanding of where you want to go and what you want to focus on.
Start by jotting down seasonal events that you'll be targeting in your marketing campaigns, e.g., Valentine's Day, Halloween and Black Friday. You can then add events that are more personal to your business, like your birthday or anniversary. You'll then want to include which platforms you'll be using, any ideas you might have and a date of when you should start preparing.
Once that's sorted, you can start to pencil in key topics that you want to focus on. This should be simple enough after conducting a content audit and looking at how you can repurpose your most successful content.
This calendar might seem basic at first, but it can be fleshed out as you move through January and February.
7. 

Snoop on your competitors
If you're still stuck on how to prepare for digital marketing in the new year, why not take a look at what your competitors did last year? Please note, we're not telling you to copy your competitors. What we're saying is that you should use it as a way to find potential inspiration for your 2022 strategies.
Your competitors might open your eyes to a new way of doing email marketing, or a content type that you never considered before. Alternatively, they might have tried a campaign that failed so spectacularly that it's put you off doing something similar in the new year! In any case, it's a great learning experience.
If you're not sure where to start, head on over to our guide to conducting a competitor analysis.
8.

See how your subscribers are doing
Image source: Krsto Jevtic (via Unsplash)
As anyone in digital marketing knows, it can be very challenging to build up a loyal base of email subscribers. This is why it's important that you check in with your subscribers at the start of the year to let them know just how much you appreciate their support.
Instead of plaguing them with a dozen discounts in the new year, you should do the following:
Offer them well wishes for the new year and thank them for their support
Give them an update of what happened last year
Provide a sneak peek of what's to come next
If you've managed to compile a list of your most successful content pieces (see step 1), you could include this in your email too—your subscribers might have missed them!
9. Assess your tools
A digital marketer is only as good as their tools, which is why it's vital that you assess them to make sure they're the right fit for you. With that in mind, you need to ask yourself:
What tools are you currently investing in?
Are you using them enough to justify the cost?
Are there any better options available to you?
There are plenty of discounts available in the new year, so it's definitely worth shopping around to see if there are more cost-effective options to add to your toolkit. If you are able to do this, you'll have more wiggle room with your budget in the year.
10. Keep your finger on the pulse
Image source: Towfiqu barbhuiya (via Unsplash)
The final way in which you can prepare for digital marketing in the new year is to stay on top of the latest trends in the industry. If you want to stay ahead of the game, you need to be aware of any changes right away so that you can pivot and tweak your campaigns accordingly.
You can do this in a few different ways:
Set up Google Alerts for search terms, so that you can get new articles, blogs or research sent to your inbox.
Bookmark, or subscribe to, relevant websites in your industry so that you can stay updated.
Once a month, set aside some time to read up on new trends, or to teach yourself new skills.
If you're looking to stay on top of all things SEO-related, Supersede's news roundups should do the trick. We trawl the internet to find the latest stories, updates and tips in the world of tech that you might need to know.
---
And that's all we've got for you! You now know how to prepare for digital marketing in the new year and hit the ground running. If you're still struggling, get in touch with us and we'll be happy to help with your content and SEO concerns!