If you've spent all of your time perfecting your website's homepage and landing pages, and left but a few measly minutes to put together your Contact Us page, you need to get your priorities in order. This page is the stepping stone to building a trusting relationship with your website visitors. Don't worry if you're not sure where to start! Our Contact Us page best practices will get you up to speed in no time.
We're going to explain why you really need a Contact Us page and provide 11 actionable tips to help you create one that will have visitors clamouring to get in touch with you. Let's go!
---
What is a Contact Us page?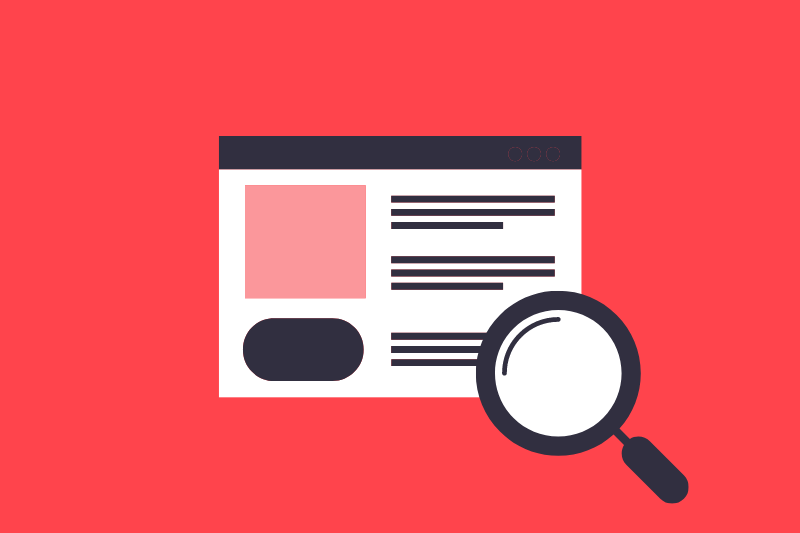 A Contact Us page is where your visitors will go to get in touch with you. It will typically contain the following information:
A phone number
An email address
An address
Social media accounts
A contact form for enquiries
If someone has a question about your product or service, has an issue with an existing order, or even wants to discuss advertising with your business, they'll head to this page to get their answers.
Why is it so important?
If you're thinking about forgoing a Contact Us page entirely, or not putting in much effort with the page, think again! Your Contact Us page is important for a plethora of reasons…
It makes you look approachable
If a potential customer is browsing your website and realises that there's no obvious way to contact you, they're going to wonder what you're trying to hide. A website without a Contact Us page might as well have a flashing 'do not trust' sign on the homepage. If you make the effort to craft a winning Contact Us page, however, you're letting people know that you want them to get in touch with you.
It can increase conversions
As great as the copy might be on your product/service pages, customers will sometimes have questions that you haven't answered. With a Contact Us page, they can get in touch with you to ask their questions. Once they get their answers, they'll be more likely to convert.
It can reassure customers that you're there for them
If something goes wrong with a customer's purchase—an issue with the shipment, or a problem with the product—they'll want to know that they can contact you immediately for a solution. No matter how great your business, mistakes happen. That's why it's vital that you can be contacted when they do.
Now that we've covered why you need a Contact Us page, we're going to delve into how you can create one that will dazzle your visitors!
---
Contact Us page best practices 
1. Figure out what your purpose is
As with every other piece of content on your website, you need to carefully consider what your purpose is when you create your Contact Us page. This will help you figure out what details need to be included.
Helping people make a decision
More often than not, the people that leave your website are interested in your products/services; they're just unsure about whether or not they should take the next step. By making some adjustments to your Contact Us page, you can help nudge them in the right direction.
A link to your FAQs page could help them find the answers to any pressing questions they might have. Similarly, including an email address for enquiries or highlighting your live chat could encourage them to get in touch with you. This will give you the perfect opportunity to convert them to actual buyers!
Supporting customers every step of the way
As we've said, mistakes happen to every business. So, if a customer has an issue with their order, you need to make sure that they can get in touch with you quickly. If they're unable to contact you, they might resort to leaving negative reviews for you online, or complaining over social media.
People will differ in how they would prefer to get in touch with a business. To cater to all preferences, you should offer an email address for order issues/complaints, a customer service phone number and a live chat.
Helping people get in touch for press/PR
As your business grows, there's a chance that a company or journalist will want to get in touch with you to discuss your story, or to get your opinion on a particular issue. This is a good chance for you to get your name and brand out there, so you want to make sure it's easy for people to contact you.
You can help by including a link to your media relations page (if you have one), or the email address and phone number to whoever is in charge of media relations.
Encouraging potential employees
If you're keen on expanding your business, you'll want to encourage people to get in touch with any questions they might have regarding employment with your company.
You can do this by adding a link to your recruitment page (if you have one), or a human resources email address and phone number.
2. Know what to include
Once you're aware of what purposes your Contact Us page serves, it should be easy enough to figure out what needs to be included on the page.
Phone numbers and email addresses
Some people like getting in touch with businesses over the phone and others prefer to communicate via email. This is why it's important to offer both types of contact information.
If you've got a wide range of numbers and email addresses, e.g., general enquires, customer service and media relations, it might be a good idea to separate them into different boxes to make it easier on the eyes.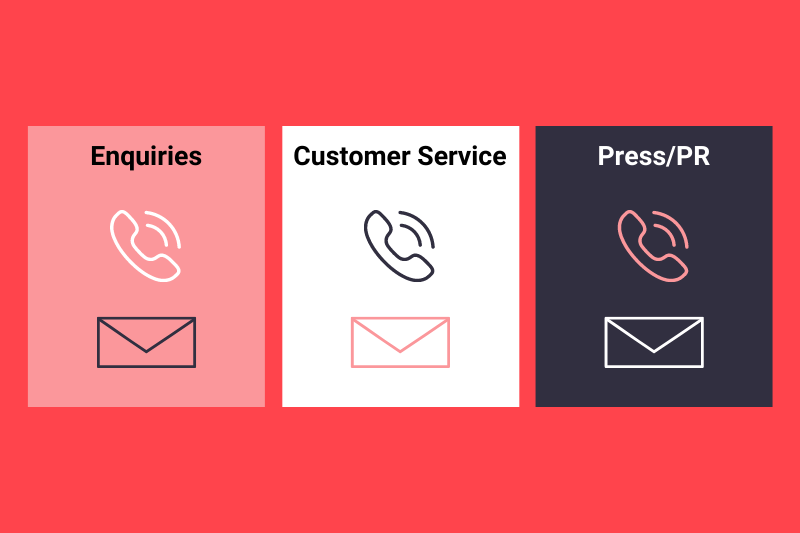 Hours of operation
You should include your company's hours of operation on your Contact Us page so that visitors are made aware of when they'll be able to contact you. This will help you avoid people complaining that you're unavailable when they call.
Social media
Nowadays, many people are more likely to try and contact businesses over social media than by phone or email. As such, if you have them, you should include links to your various social media accounts.
Location
Next up on your page is your physical address. Your customers and other interested parties need to know where you're located, so this is important. You can make it even easier on them by including a link to Google Maps.
If you've got multiple locations, it's a good idea to list all of the addresses. You can then embed a map at the bottom of the page with pins to represent each location.
Related information
As we've touched upon briefly, there will be times when you want to direct potential customers to other pages on your website.
If you want to avoid people asking questions that you've already addressed, for example, you'll want to include a link to your FAQs or help centre. Similarly, if you've got pages dedicated to other areas of interest—like job opportunities, guest posting, or advertising—make sure you include them. It will save you and your visitors valuable time.
You're not trying to get people to forget about contacting you. Instead, you're trying to answer their queries before they have to go through the rigmarole of getting in touch with you.
3. Craft the perfect contact form 
To make things easier for yourself and your visitors, create a contact form so that you can quickly surmise what it is someone is after.
When creating this form, avoid being too invasive. If you make it mandatory for visitors to fill in dozens of fields, for example, they're going to be put off getting in touch with you. And there you go—you've lost a potential customer!
Instead, opt for the basics:
Name
Email address
Are they an existing customer?
What is their concern?
You might be tempted to ask for their phone number, but this is overboard and unnecessary. Stick to these details and visitors will be more likely to contact you.
Consider making it adaptive
Some websites make use of adaptive contact forms, instead of standard, one-size-fits-all contact forms, in order to narrow down exactly what the visitor is after. These forms start out with basic fields like 'name' and 'email address', but once the visitor provides the reason for their visit, e.g., 'existing order', additional fields will crop up depending on their answers.
These types of contact forms tend to be much better for user experience. Instead of only using basic fields for gathering information from visitors, it allows you to hone in on what the visitor is actually looking for. This saves you from having to ask these questions further down the line.
Don't forget to thank them
If someone does fill out your contact form, make sure to redirect them to a thank you page. This is not only to express gratitude for them getting in touch with you, but also to give them further information. You need to tell them when they can expect a response from you and how you plan to get in touch with them.
4. Add a live chat feature 
As we've said, you want to give people as much choice as possible when it comes to getting in touch with you. So, if you can, offer a live chat feature on your website as well. More and more people nowadays prefer to get in touch over a live chat system, as it's often faster than waiting for an email response.
If you do use this type of feature, you'll need to make it clear whether your visitors are speaking to a chatbot or one of your employees. You should also give them an idea of what response time is like, so they know how long they'll be waiting.
5. Keep it organised
If you're including contact information for various departments, multiple addresses and links to additional resources, you'll want to think carefully about how you want to organise all of your information.
Avoid presenting your information in huge blocks of text. This will be off-putting to visitors and make it difficult for them to find what they're looking for. Instead, organise your information with headings and subheadings, or consider using boxes and tables.
6. Include a CTA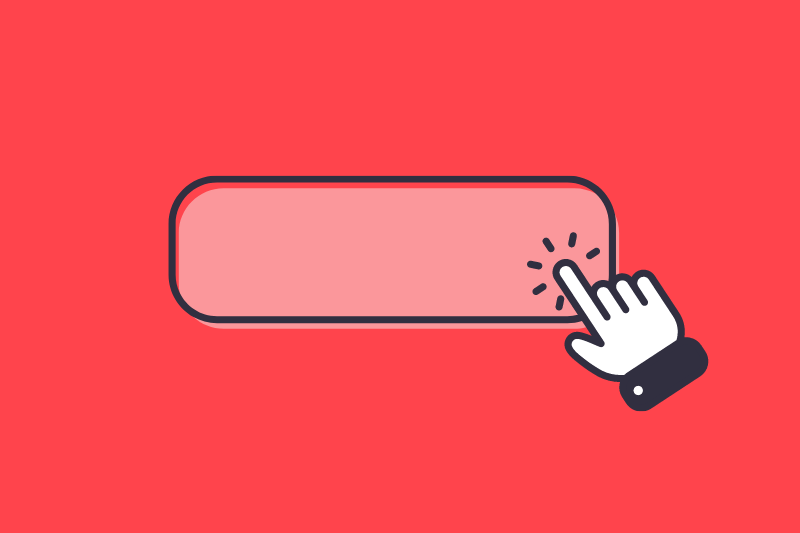 Just because someone ends up on your Contact Us page doesn't mean that they'll decide to get in touch. They might have just been curious about where you're located, or simply wanted to see what contact information you offer.
When this happens, you don't want to miss out on the opportunity to push them to do something else instead. With the right call to action (CTA), you could get them to:
Subscribe to your newsletter
Check out specific products/services
Head over to your blog
Follow you on social media
Now, you don't want to come off as too salesy by throwing this CTA at the top of the Contact Us page. Let people browse through your information first by putting it at the bottom of the page.
7. Don't be afraid to inject some personality into the mix
Just because Contact Us pages seem rather dry doesn't mean they have to stay that way. Treat it as you would any other page of copy on your website. If you usually write with a humorous or wry tone, do the same here, or you'll end up with a confusing mishmash of fun and dry content.
Similarly, if you incorporate interesting or quirky design and colour palette choices on other pages, follow suit here.
The more personality you can inject into your Contact Us page, the more approachable it will appear. It's a win-win—you get to enjoy writing fun copy and your visitors get to enjoy reading it.
8. Check for grammatical errors
It might seem obvious, but you'd be surprised by the number of businesses who make typos on their Contact Us page. If you're lucky, your typo will only highlight your lack of quality control with your content. If you're unlucky, however, it will lead to your visitors not being able to get in touch with you, e.g., if you've mistyped your email address or phone number.
9. Consider putting a face to the name
The last thing you want is for people to view your business as a cold, faceless corporation. You want to stand out from the crowd and highlight how personable and 'human' your business truly is.
So, instead of using cheesy stock photos of a grimacing smiling woman holding a phone, why not use pictures of your team? This will give your visitors a better idea of who they're getting in touch with.
10. Try A/B testing
If you've looked at a few of our guides in the past, you'll know that we're big fans of A/B testing. It's a great way to figure out what works best with your copy and design. You never know what your visitors will respond more positively to, so it's definitely worth testing a range of variables.
Try playing around with:
Layout
CTAs
Colours
Images
Copy
It might take you a while to fine-tune your Contact Us page, but it will be more than worth it in the end.
11. Make sure it's easy to find
After all the trouble you've gone through to perfect your Contact Us page, it'd be a crying shame if your visitors were unable to find it. That's why you need to make it quick and easy for your visitors to spot.
You can do this in a couple of ways.
Label it properly
We all want to be original when it comes to our web copy, but the last thing you want is to confuse your visitors when they're actively searching for ways to get in touch with you.
So, instead of trying to think outside the box with your labels, stick to generic titles like 'Contact Us', 'Help', or 'Support'.
Display it in an obvious place
Unless you're looking to hide from potential customers and other interested parties (which would be both very suspicious and concerning), you want your Contact Us page to be as easy to find as possible.
The best course of action is to display it in both your navigation bar and your footer. When you add it to your navigation bar, avoid putting it in a dropdown menu, e.g., under 'About Us', as this can make it more difficult for visitors to find.
You might also want to consider creating a CTA for your Contact Us page on your homepage, to encourage people to get in touch with you if they have questions about your product or service.
---
Final thoughts
Creating a Contact Us page might take more effort than you first thought, but that doesn't mean it's an impossible task. All you have to do is follow our Contact Us page best practices and think about what you can do to help your visitors find what they're looking for.
If you're still stuck for ideas, Supersede Media is here to save the day! Get in touch with us here and we can help you create a Contact Us page that truly shines!